This article originally appeared in the Culture section of Bloomberg News on July 7, 2008.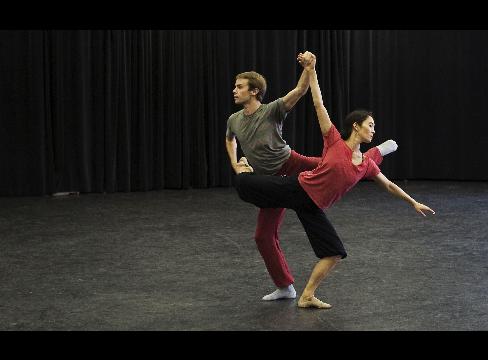 Noah Vinson and Maile Okamura dance during a rehearsal of Mark Morris' "Romeo & Juliet, On Motifs of Shakespeare," in New York, on June 11, 2008. Photographer: Johan Henckens/Mark Morris Dance Group via Bloomberg News
July 7 (Bloomberg) — Leave it to Mark Morris to create a "Romeo and Juliet" danced to Prokofiev that features no balcony, no crypt, no pointe work, plenty of passion and violence, yet no final tragedy. The lovers simply move on to some higher plane, enveloped in a star-studded sky.
Morris, 51, is fanatically committed to presenting his dances with live music, so it's only fitting that this celebrated and controversial choreographer should be the first ever to use Prokofiev's recently recovered original score for the world premiere of "Romeo and Juliet, On Motifs of Shakespeare" as part of Bard College's Summerscape Festival.
Material for the reconstruction of the score was recently discovered in a Moscow archive by musicologist Simon Morrison. This original version, occasionally dissonant and rhythmically complex, was intended to show passionate youth challenging feudal conventions about marriage and family. (The blissful-end narrative was worked out with the experimental theater director Sergey Radlov.) It was barred from production by both the Soviet regime and ballet community beginning in 1935.
Desperate to see his work staged, Prokofiev resigned himself in 1940 to a more bombastic and melodramatic alternative, now familiar to dance fans from productions by the Kirov Ballet's Leonid Lavrovsky, then by John Cranko, Kenneth MacMillan and Frederick Ashton, to name a few.
Homemade Air
The production at Bard, in Annandale-on-Hudson, New York, uses the original music and offers many aspects of enchantment, though it hardly eclipses MacMillan's pull-out-the-stops extravaganza. Morris's version is tastefully small — fewer than 20 dancers and a single set — and captures the beguiling, homemade air of talented kids putting on a show.
It also relinquishes class distinctions to a great degree. Juliet's parents, for example, mingle with the throngs in the town square as friendly neighbors of women who don't even own shoes. The human intimacy of the whole affair is well matched to Bard's exquisitely proportioned, 500-seat Richard B. Fisher Center for the
Performing Arts.
The choreography mixes a rather thin ballet vocabulary with robust modern dance and folk touches and lusty, centuries-old Italian mime — a typical Morris blend. One of the best elements of the production, rare for this choreographer, is the detail with which the principals reflect the most fleeting emotion.
Tender Romeo
Rita Donahue as Juliet goes from the touching confusion of an inexperienced teen making her social debut to incredulous delight in David Leventhal's Romeo, who has crashed the party. Leventhal, whose initial reticence is wimpy, gains confidence by quick degrees from Juliet's response, assuring us (and her) that he will always treat her tenderly. This is fortunate because, in a unique interpretation, Bradon McDonald's Paris, the suitor with the senior Capulets' approval, acts as if he owns the girl, repelling her with his rough handling.
Lauren Grant is terrific as the Nurse (more of a multipurpose servant who participates in all of the family's affairs). As Prince Escalus, Joe Bowie's putting down the latest melee in the Capulet-Montague feud was my favorite passage. Resplendent in the black and gold of his authority, he faces the crowd in the blood-soaked town square and, with grave, calm gestures, preaches that reconciliation is the only path to peace.
The gender switch in the casting of Amber Darragh as Mercutio and Julie Worden as Tybalt was fun yet unconvincing. The biggest disappointment was the quartet of senior dancers — now retired from the company, though some of the most memorable artists it has ever had — summoned back to play the Capulet and Montague parents. Three had nothing meaningful to do; the fourth seemed not to include dramatic imagination among her gifts.
Leon Botstein conducted the American Symphony Orchestra in a sensitive reading of the score. Allen Moyer contributed handsome, clever scenery with a childlike air, raw-looking wood prevailing from swords to miniature houses representing Verona. Martin Pakledinaz was at less than his personal best with the costumes.
Mark Morris Dance Group and American Symphony Orchestra perform "Romeo and Juliet, On Motifs of Shakespeare" through July 9 at Bard Summerscape Festival, Annandale-on-Hudson, New York. Information: +1-845-758-7926; http://summerscape.bard.edu.
The $1.1 million production will travel to Berkeley, California, Sept. 25-28; London, Nov. 5-8; Urbana, Illinois, March 13-14; Norfolk, Virginia, May 8-10; New York's Lincoln Center, May 14-17; and Chicago, September 2009.
© 2008 Bloomberg L.P. All rights reserved. Reprinted with permission.