This article originally appeared in the Culture section of Bloomberg News on December 7, 2007.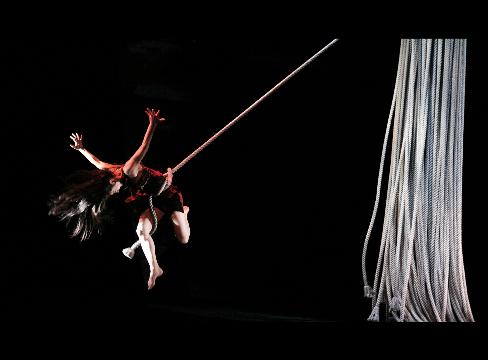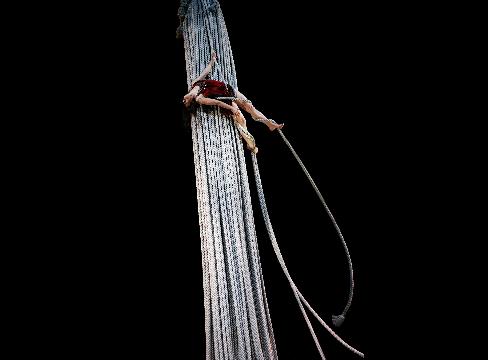 Satchie Noro swings from ropes while performing in "Au Revoir Parapluie," directed by James Thierree, at the BAM Harvey Theater in New York on Dec. 4, 2007. Performances will continue through Dec. 16. Photographer: Julieta Cervantes/BAM via Bloomberg News
Dec. 7 (Bloomberg) — A woman in crimson hangs upside down in a tangle of thick ropes, later soaring through the air in a white nightgown, like Peter Pan's Wendy. An acrobatically inclined man is defeated by the motion of a skeletal rocking chair. The stage floor gets pried apart to make a lake in an improvised rice field, while the plants become whimsically pliant swords in a mock duel.
James Thierree's "Au Revoir Parapluie" (Goodbye, Umbrella), at the BAM Harvey Theater through Dec. 16, is a loosely joined performance of skits involving acrobatics, mime, magic tricks, aerial feats, a bit of singing and sundry aspects of dancing. Thierree was supposedly inspired by the Orpheus and Eurydice myth — loss, search, death-defying retrieval — but you'd never know that.
What you do wonder, unless you're simply content to be charmed by the absurd, is how he's going to make the whole business cohere. It does so only vaguely and succeeds, instead, through inventive props, the intrepid spirit of its five performers and a vein of pathos that gives the pervasive silliness some gravity.
Creator of the French troupe Compagnie du Hanneton, Thierree plays the hero of the show, a lovable charmer unable to cope with the everyday actions we take for granted — putting on a jacket, sitting in a chair — let alone with securing a lover. Though he lacks the exquisite timing of a world-class comedian, perhaps because he hasn't yet learned the value of stillness, he's undeniably a multitalented performer.
Miner's Helmet
The rangy, bemused Magnus Jakobsson, wearing a miner's searchlight helmet, provides the magic. His best stunts have no visible props or results; it's all in the mime. Kaori Ito, a tiny, hyperkinetic woman, dances the role of the hero's over-eager pet. The luscious Satchie Noro, who does the aerial work, is the hero's elusive love, while a singer, Maria Sendow, appears in settings involving the seedy red velvet and tacky gold trim of an opera house in picturesque decline.
The decor, especially its huge absurdist props, is a main character in the show. The most prominent items are a giant ladder providing an extended balcony, which gets pushed around on a conglomeration of dubiously reliable wheels — think Claes Oldenburg — and a flies-to-floor hanging of ropes that looks like an old-fashioned wet mop on steroids.
Thierree inherited the right genes for his work. His parents were prominent in advancing the nouveau cirque genre, known best in the U.S. through Cirque du Soleil. His grandfather was Charlie Chaplin; his great-grandfather, Eugene O'Neill (not given to the lighthearted, granted, yet certainly a theatrical innovator). Thierree is already 33, but I have a hunch he's only beginning to harness his imagination.
At the BAM Harvey Theater, 651 Fulton St., Brooklyn, through Dec. 16. Information: +1-718-636-4100 or http://www.bam.org.
`Phoebe Snow'
The Alvin Ailey American Dance Theater, at the New York City Center through Dec. 31, has wisely ranged through its attic and come up with a winner — Talley Beatty's 1959 "The Road of the Phoebe Snow." The revival, staged by Masazumi Chaya, the company's associate artistic director, proves that a work typical of its time can burn bright today.
The dance shows us a 14-strong bevy of young people, who may be have-nots but still retain some romantic hope as well as immense vitality. The group's taut body language, however, shows that it's living close to the edge and can just as easily turn vicious.
In an emotionally potent duet danced by Briana Reed and Glenn Allen Sims, the woman is just a callous man's passing sexual fancy. This passage is immediately succeeded by a luminous pas de deux of unsullied love between Linda Celeste Sims and Clifton Brown.
Trouble Starts
The next thing you know, big trouble starts. Provoked by one malevolent guy, the crowd turns on the radiant pair, perhaps jealous of its brief, unclouded joy. The mob viciously beats the man; the woman is raped and so traumatized she throws herself under a passing train.
The construction of the piece is knife-sharp, as is its message. The passenger train named the Phoebe Snow was a creation of advertising in the early 20th century. The Lackawanna Railroad featured trains fueled by anthracite, a hard coal that left passengers' clothes unsullied, unlike the soot-producing trains fueled by soft bituminous coal. Ads depicted Phoebe as a privileged pale-skinned young woman elegantly attired in immaculate white. Beatty, who grew up along the trains' route, tells the gritty truth.
At City Center, 131 W. 55th St., through Dec. 31. Information: +1-212-581-1212 or http://www.alvinailey.org.
© 2007 Bloomberg L.P. All rights reserved. Reprinted with permission.