This article originally appeared in Voice of Dance (http://www.voiceofdance.org) on August 21, 2007.
Mark Morris Dance Group, Mozart Dances / New York State Theater, Lincoln Center, NYC / August 15-18, 2007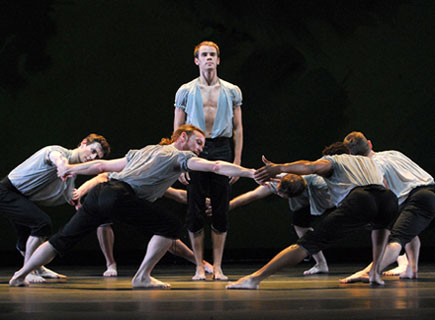 Mark Morris Dance Group in Morris's Mozart Dances. Photo by Stephanie Berger.
I saw (and wrote about) the world premiere of Mark Morris's Mozart Dances a year ago at the New York State Theater, when it was presented as part of Lincoln Center's annual Mostly Mozart Festival. This year the Festival gave it four encore performances, August 15-18, on the same stage, and I felt I was seeing deeper and deeper into its immaculate architecture and enigmatic, stirring emotions.
Defying possible monotony, Morris set all three parts of his dance to piano compositions: "Eleven" to the Piano Concerto No. 11 in F major; "Double" to the Sonata in D Major for Two Pianos; "Twenty-seven" to the Piano Concerto No. 27 in B-flat major. Like Balanchine, who frequently took the names of his ballets from their music, Morris made his own titles as blunt as could be. This is a canny device for refusing to tell the audience what a ballet is "about," thus relying upon the individual viewer to listen and watch keenly, activating his or her imagination.
As at the dance's New York performances last summer, Emanuel Ax was the pianist for the concerti, Yoko Nozaki seconded him for the Sonata, and Louis Langrée led the Mostly Mozart Festival Orchestra. I haven't heard music played for dancing as sensitively as this since the pianist Garrick Ohlsson collaborated with Annabelle Gamson, a matchless interpreter of Isadora Duncan's work.
Call Mozart Dances abstract if you will, but its first two segments are extraordinarily rich in subtext. As with Balanchine's Serenade, there is no "story" of the sort that might neatly be pinned down in a program note. Still, the choreography continually hints at character, situation, even fragments of plot–all to be interpreted "personally."
"Eleven" opens with a horizontal lineup of seven men who vanish almost before their presence has registered. Their presence simply notifies you that they'll be back eventually. The rest of the dance belongs to eight women. Lauren Grant, a small woman crowned with blond curls, is the protagonist. She combines a lush sculptural quality with clarity and astounding projection, qualities that have made her one of the Mark Morris Dance Group's greatest dancers and greatest stars.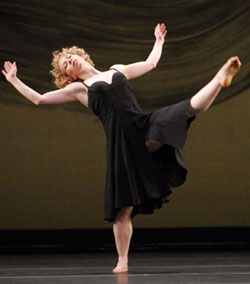 Lauren Grant. Photo by Stephanie Berger.
The others, each distinguished in her own right, form a chorus who witness and, to a point, empathize with Grant's unnamed experiences, passions, and sufferings. The "to a point" reservation is critical because Morris makes it very clear that, when it comes down to it, each of us is alone.
This section introduces the gestures and movement motifs that the entire piece will use again and again, each repetition, at least in the first two parts of the triptych, showing us the move at a new angle or taking on fresh meaning from a new context. Instances that burn themselves into your brain: Grant, at the opening, folding one arm up toward her heart; the other women clustering at the side of the stage, looking skyward as if mildly examining the weather; dancers rooted in place, dynamic in their stillness, their backs toward the audience, arms akimbo, hands overlapping at the vulnerable spot where the head joins the neck; and a sudden fall–this becomes the section's curtain line–arms and legs splayed and angled as if the body had been thrown from a motorcycle speeding heedlessly over rocky terrain.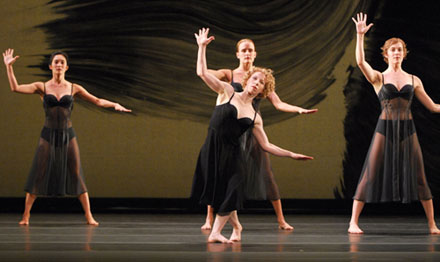 Mark Morris Dance Group in Morris's Mozart Dances. Photo by Stephanie Berger.
"Double" features the eight men we glimpsed in "Eleven." To me, Joe Bowie, in an inky frock coat modified for dancing and black biker shorts, represents Mozart, teaching the others, common men, whatever can be taught about art. One of them, Noah Vinson–looking innocent and vulnerable with his boyish build and childlike face–seems to be his special protégé.
But then, as the men bond in an exquisitely inventive circle dance, Vinson, both arms angled up to his heart, fists clenched in anguish, tells us he is going to die. As the women did with Grant, the band of brothers does its best to succor and protect him, but falls away when nothing prevails, leaving Vinson pathetically lost in a world devoid of landmarks. Bowie remains constant, though, like a father with a doomed son, no longer instructing but simply being there.
Suddenly, like an astonishing vision, the women appear, wearing limp gauzy skirts that sweep the floor, an acknowledgement that Vinson is beyond the help of his fellow man and needs a circle of angels to escort him from this life to the next. Yet a moment later, cued by a shift in the music, all is well again, the dancing joyful and robust, Vinson's tragic fate magically rescinded. The dance as a whole captures the spirit of certain Mozart operas and is one of Morris's finest achievements to date.
In "Twenty-seven," the third and final segment of Mozart Dances, men and women meet in equal numbers, in bright sunlight, so to speak, suddenly shorn of mystery. They seem to represent the concepts of society as a solid whole and the fleeting formation of couples within it. As is true of Balanchine's Jewels, comprising "Emeralds," "Rubies," and "Diamonds," the last segment of the trilogy is weaker than the two that preceded it. In the case of the Morris piece, it's far weaker.
The repetition of all the dance's basic gestures, which felt so organic before, now seems forced and thus grows tiresome. Brief solos for the individual dancers look obligatory–the fifteen seconds in the sun that is undeniably each one's due–though a few of them, like the one for Elisa Clark, a plain-faced woman who's the epitome of grace, are particularly beautiful and/or surprising.
In a later passage, there are some amazing man-woman lifts–a rare device for Morris. Unlike the hoist and triumphant sculptural pose typical of classical ballet, these lifts are all flow. Spilling through the space, they're counterbalanced by falls into stillness that eloquently suggest, as they have throughout the dance, that this is what we all come to. Even so, the ideas of an entire populace finally assembled, with friendly small clusters within it, don't contain much specific or profound feeling this time, though they are familiar Morris concerns. Subtext is slender or absent entirely here, while there's far too much footage of cheerful-natives-frolicking-on-the-village-green. Of course Morris might say, "The music made me."
Martin Pakledinaz designed the beautiful, witty black and white costumes. James F. Ingalls provided inexplicably routine lighting. The three overbold backdrops of giant paintbrush strokes, the work of Howard Hodgkin, stubbornly refuse any connection to the music or the dancing.
I saw the performance on the 16th, which was televised on PBS' "Live From Lincoln Center" and seen by millions of viewers — not just the 2700-plus that the State Theater holds — and no doubt recorded for an afterlife by many of them.
It was intriguing to witness, live, an event that, under ordinary circumstances, would be ephemeral. The fact that performance exists, as Marcia B. Siegel puts it, at the vanishing point, is a significant part of its compelling fascination. I realized as I was watching, though, that this performance, in its televised version, would give Mozart Dances a solid place in dance history, though the video is only a reproduction.
What I missed, and the television audience saw, was Sam Waterston as host and a pre-recorded intermission homage to the late Beverly Sills, who regularly filled that role with her inimitable vivacity. I could catch up with the recorded version, but, unless I need it for study purposes, I probably won't, even though Waterson is my heartthrob.
© VoiceofDance.com 2007. Reprinted with permission.