This article originally appeared in Voice of Dance (http://www.voiceofdance.org) on August 27, 2007.
Nureyev: The Russian Years / PBS "Great Performances" / August 29, 2007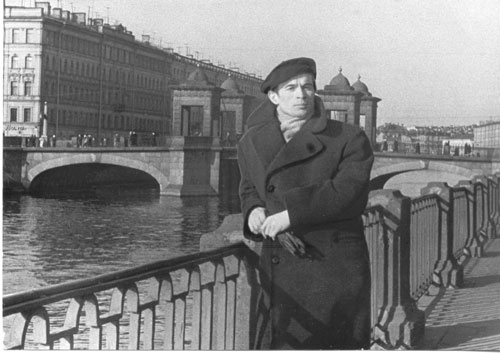 Rudolph Nureyev. Photo courtesy Thirteen/WNET New York.
Rudolph Nureyev (1938-1993), the Tatar ballet dancer, was a phenomenon before America and the world at large ever heard of him. Now there's a TV documentary supporting that position. Nureyev: The Russian Years, a joint project of WNET and the BBC, has its American premiere August 29 in the PBS "Great Performances" series. Written and produced by John Bridcut, it chronicles the earliest segment of the dancer's career through the immediate period following his dramatic defection from the Soviet Union in 1961. And of course it exalts Nureyev as the exotic, feral, passionate performer he was.
True, Nureyev's saga has been endlessly–sometimes fancifully–documented. This program escapes redundancy because it offers on-camera interviews with the dancer's colleagues and friends who could not speak freely before the Soviet regime collapsed and footage of Nureyev's dancing in his youth not accessible in the West until now.
Much of this early footage was shot by Teja Kremke, an East German ballet student who became Nureyev's lover when they were both young. (Julie Kavanagh, whose exhaustive biography, Nureyev: The Life, will be published by Pantheon next month, tracked it down, and served as consultant to Bridcut's project.) Kremke's amateur film, showing the unseasoned Nureyev's ability to defy gravity and conquer space–with phenomenal strength, coordination, grace, and a very individual musicality–proves that his unique talent and dynamic temperament were evident from the start.
Nureyev grew up in rural surroundings without luxury of any kind, except for, it's implied, his mother's love. As a boy, he liked to watch trains, which he found romantic. He was, actually, born on a train, which later seemed prophetic of his adult life–its drama and its shifting landscape.
When he saw his first ballet at the age of 7 in the provincial town of Ufa, it was love at first sight. Ostensibly he declared, "That's all I'm going to do–dance!" Living "in the sticks" as he did, with no economic resources and a father who insisted that dancing was an unsuitable profession for his son, Nureyev could hardly have fulfilled his near-impossible dream without his innate avidity and persistence.
He did menial work to pay for his childhood lessons in folk dancing, then had some rudimentary ballet training and local performing experience. His aim for the future, though, was nothing less than to attend the ballet academy in St. Petersburg (then Leningrad), whose best students graduated into the legendary Kirov Ballet. It was the alma mater of the likes of Anna Pavlova, Tamara Karsavina, George Balanchine, Alexandra Danilova, Natalia Makarova, and Mikhail Baryshnikov.
He finally succeeded and, in 1955, he fell in love again, with the city of Leningrad and the Kirov Ballet and its academy. He was 17, and thus a late starter at an institution geared to molding children into professionals. Nevertheless, he declared to his far more experienced peers, "I will be the number one dancer in the world." Modesty was not in his rep–perhaps he couldn't afford it–but he worked fanatically to develop his skills.
The documentary offers the earliest known film of Nureyev dancing–at 20, at a Moscow student competition in a solo from Le Corsaire. Subsequently included in a film that was shown widely in Russia, it was the start of his fame in his motherland. In his final year at the Kirov's school, however, the company did not offer him a place, though its competitor, Moscow's Bolshoi Ballet, invited him to sign on as a soloist. At the last minute, the formidable Kirov ballerina Natalia Dudinskaya, nearing the end of her stage career, said, "Why don't you stay here and dance with me?" (Today, this May-December coupling seems to prophesy the celebrated partnership Nureyev would form with England's prima ballerina assoluta, Margot Fonteyn.)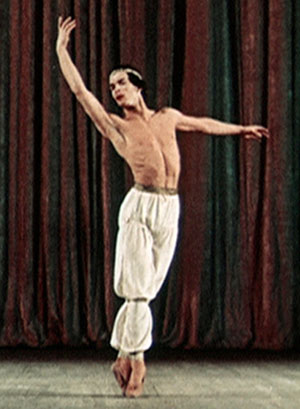 Rudolf Nureyev in Le Corsaire at a student competition in 1958. Photo courtesy of Thirteen/WNET New York.
Once an official member of the Kirov, Nureyev went to live with his former teacher, the celebrated Alexander Pushkin, where he was pampered and probably slept with Pushkin's wife, violating a primal law of hospitality. At the theater, too, he was thought of as a troublemaker: for his insistence on pursuing a wide cultural horizon where insularity was the rule and seemingly small incidents as well, such as his refusing mid-performance one night to continue in the loose trousers assigned to the male dancers and insisting on the Western fashion of form-fitting tights. He was a rebel in the land of restriction.
The show records his partnership at the Kirov with the ballerina Ninel Kurgapkina, now in her late seventies and the most vivacious figure in the documentary after its hero. Indeed, the circle of Nureyev's associates interviewed here gives a marvelous impression of the best aspects of the Russian spirit–courage, humor, and an unflagging awareness of life's richness, even in daunting circumstances.
In 1961, the Kirov decided to exclude Nureyev from its planned tour to Paris because of the rash independence of his personality. But Janine Ringuet, an assistant to the French presenters, having seen him dance, had her superiors insist that he appear in France. This was Nureyev's opportunity to defect and, despite the obvious dangers, he took it.
The documentary contends that Kremke had planted the idea in Nureyev's mind that a talent like his must take the whole world as its stage. If so, it surely accorded with Nureyev's sense of what his gifts deserved. It's equally true that his defiant temperament and the fact that he was gay made him a natural target for repressive authority, so that his future in Russian seemed precarious.
At any rate, Nureyev danced in Paris, to a tumultuous reception. Then, as the company assembled at Le Bourget airport, Nureyev was informed that (for some trumped up reason) he was not to go on to London, the next leg of the tour, but to return to Russia. The dancer's reaction: "I am a dead man." Witnesses disagree about what happened next. The French dancer and choreographer Pierre Lacotte, who had befriended Nureyev in Paris, recounts his version of the event, which culminates in Nureyev's hurling himself into the arms of the French police, shouting, "I want to be free." Granted asylum, he hid out for a time in Paris without any means of practicing (the equivalent of a prison sentence for a dancer).
Eventually he joined the Grand Ballet du Marquis de Cuevas, while the KGB, which had long had its eye on him, tried every device possible to retrieve the man they called a traitor. Nureyev managed to evade them and went on to three decades of the glories we are most familiar with: the celebrated partnership with Fonteyn, whom he called his soul mate; the association with the Denmark's Erik Bruhn, a quintessential danseur noble, ice to Nureyev's fire; performances worldwide that received unbridled accolades; work as an artistic director and choreographer.
Nevertheless, as the Danes say, Nureyev's life was not a dance on roses. His close friends in Russia were often held under suspicion and Kremke died at 37 in "unexplained circumstances." The Soviet government prevented Nureyev from returning to visit his family until his mother was dying, and when, much later, Nureyev finally danced again on the Kirov stage, he was already dying of AIDS.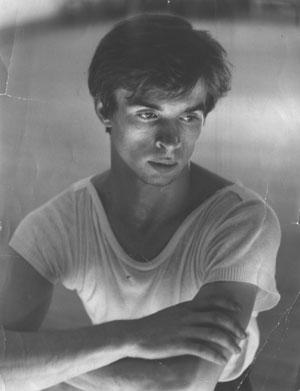 Rudolph Nureyev. Photo courtesy of Thirteen/WNET New York.
His choreography alone would not have won him a place in the history books. Mostly, he created his own versions of revered nineteenth-century classics, choreographing perverse solos for himself, solos made of phrases that twisted the classical vocabulary against its own grain. Purists found this ploy exasperating, but Nureyev was determined to show off his mastery of the difficult and to make the hero of these traditional pieces that favored the ballerina equally important.
He felt compelled to go on performing long after his technique had conspicuously declined and his abilities were finally scuttled by illness. By his last years on stage, he was dancing solely on his charisma and his legend. Yet the general public was still roaring its approval and adoration. Just as at the beginning, people recognized a hero when they saw one.
Nureyev: The Russian Years is conventionally structured. It's also disconcertingly patched together, with scenes never recorded–like Nureyev's first sight of a ballet–"reconstructed" with latter-day participants or showing Nureyev's appearance in a ballet to accompany voice-over narrative of his life. What's more, these devices aren't employed with any great skill or imagination. The unique worth of this venture lies in the archival footage and the interviews with people close to Nureyev who were not free to speak openly of him during the Soviet era. And Nureyev himself, with his wicked intelligence, rebelliousness, and ardor, makes one of the most compelling talking heads in the bioflick genre. Even when he's not dancing, he's a star.
© VoiceofDance.com 2007. Reprinted with permission.