Bolshoi Ballet / Metropolitan Opera House, Lincoln Center, NYC / July 18-30, 2005
Sometimes I wish we could TiVo live performances. I'm thinking just now of the Bolshoi Ballet's Don Quixote. It had some marvelous moments, one of which I'd be happy to revisit in perpetuity—when I saw it the second time I was amazed that such a miracle could be repeated—but, for the bulk of the production, a single sighting was plenty. The choreography has evolved from Marius Petipa's 1869 original (Petipa led the Kirov Ballet, but made his feisty Don Q for the Bolshoi) through Alexander Gorsky (1900), to the current production (1999) credited to Alexei Fadeechev, and the program acknowledges other contributors-along-the way. The Ludwig Minkus score—tune after dancey tune, many of which will haunt you for weeks—continues to serve its purpose, but the present account of the action fails utterly in meshing, let alone doing even separate justice to, the tragically visionary and the irrepressibly comic. As for the overall performing style–well, the circus is never very far away.
Now about that miracle. About two and a half hours after the curtain goes up, on comes a girl in a pale yellow tutu and dances the briefest of solos. It is composed largely of grands jetés. The girl is small and compactly built, with a look of childlike wonder about her. The jetés are incomparably light, a cross between floating and flying. There seems to be no effort behind them and no ego; they just happen. It's one of those moments that occurs in ballet from time to time, when issues of classical technique drop out of the picture and all you see is pure dancing. One of those moments in which you understand perfectly what ballet is for or, perhaps, fall under its spell for the very first time. The dancer's name is Natalia Osipova. She entered the company just last year.
The other swell thing about the production was not the classical material but a series of what I'd call Moorish dances. Slow, sinuous solos for women in long skirts and heeled shoes, with deep backbends as their motif, these were balleticized versions of ethnic dance. In the case of a gypsy number in Act II, performed with intent by Anna Antropova in a flame-colored gown veiled with ash gray, the material was streaked with dark, fearsome passions. It was a pertinent reminder, amid much bravura and comic cavorting, that life—even just the part of life that can be represented in a ballet—has multiple textures and profound depth.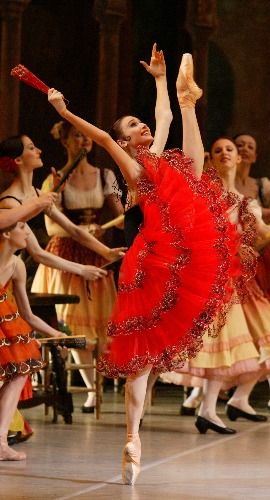 Opening night, Kitri was played by Svetlana Zakharova, the company's most glittering star and a favorite with the local audience. She exemplifies the ballerina model that both the Kirov (her company of origin) and the Bolshoi now favor—tall, exceedingly long-limbed, frighteningly thin, with a tiny head, bowstring arches, and a hip joint so mobile it permits those eerie extensions in which the leg, flung straight up, permits the dancer's knee to graze her cheek. All of this is thought to be beautiful.
Zakharova is celebrated for her legato dancing, in which time seems to slow down as her body etches one infinitely graceful line after another on the air. As Kitri, a role better filled by a soubrette type, she goes out of her way to be extroverted and exuberant, proving several times over that, yes, she has mastered Maya Plisetskaya's flamboyant trick of arching backward in full sail while tossing her leg up behind her to kick the back of her head. Zakharova is right on target here in going for vivacity and bravura feats, but the results have little spontaneity and even less joy.
I preferred Ekaterina Shipulina as Kitri. Her gifts are more modest than Zakharova's and she lacks Zakharova's appetite for glory, but her body is closer to the range of normal, and when she dances—even with all the show-off acrobatics and emphatic flourishes endemic to Bolshoi style—what she does looks like something a spirited young woman might really do if she were animated by love and dancing, It looks almost human.

Andrey Uvarov partnered both Zakharova and Shipulina at the performances I saw. He's a genial presence and expert at ballerina handling in matters of multiple supported pirouettes and one-armed lifts. On his own, he's notable for legs that work like rapiers on big leaps, like scissors in vertical jumps with beats. Gratifying as all this is, though, he's not a star, and the role of Basilio (or Basil, as it's been reduced to here) requires both megawatt charisma and, what's more, a flair for comedy.
Not much energy was invested in making the mime a telling element in the proceedings. Still, the two leading all-mime roles were well cast to give us a tall, gaunt, Don Quixote (Alexey Loparevich), representing the life of the imagination and moral values, offset by a short, solid, jovial Sancho Panza (Alexander Petukhov), embodying the life of the belly and expediency. The rich fop, Gamache, was nicely observed, too—by Victor Alekhin—and Kitri's mom, unessential to the plot, was nevertheless rendered deliciously by Evgenia Volochkova.
As for the corps work, only a killjoy could fail to get swept up in the vivacity of the village square scenes with their castanet clacking, fan fluttering, cape swirling crowd. At the opposite end of the spectrum, the sisterhood of dryads aimed appropriately at refined delicacy. But almost everyone, from top to bottom in the casting hierarchy, seemed to be doing nothing more than a conscientious job. Don Q takes its title from a character who's a visionary, but this production is merely a showpiece in which vision would be a decidedly foreign object.
Photo: Damir Yuspov: Svetlana Zakharova as Kitri in the Bolshoi Ballet's production of Don Quixote
© 2005 Tobi Tobias