American Ballet Theatre / Metropolitan Opera House, Lincoln Center, NYC / May 23 – July 16, 2005
American Ballet Theatre seems to ricochet between desperate attempts at "making it new" and revisiting its past repertory and honoring it with revivals. A quartet of this season's golden oldies formed a program of their own—the "Fokine Celebration", a retrospective bill comprising Les Sylphides, Petrouchka, Le Spectre de la Rose, and the Polovtsian Dances from Prince Igor. The first two works are major; the second two, minor—but each in its singular way characterizes Fokine's freeing classical ballet from its earlier restraints. The ballets were choreographed—or, in the case of Les Sylphides, drastically revised—under the aegis of Serge Diaghilev and his legendary Ballets Russes and were danced by the likes of Nijinsky, Pavlova, and Karsavina. Eye witnesses to the works' first incarnations are gone, but many photographs, to say nothing of written accounts, survive to convince us that the original productions were a hard act to follow. Attempts are made the world over, but ABT has a particular interest in doing justice to Fokine, Les Sylphides and Petrouchka having been staged for the company by the choreographer himself early in the 1940s, when ABT was merely Ballet Theatre—and newborn.
Mind you, apart from Polovtsian Dances, these ballets are not relics. They are wonderful elements of the classical dance canon that are viable today. That viability, however, is in large measure dependent on their staging and performance. If you see an execrable performance of As You Like It, you can still believe it's one swell play on the evidence of the text alone. Ballets have no easily accessible text to assure their reputation. They exist largely in the here and now.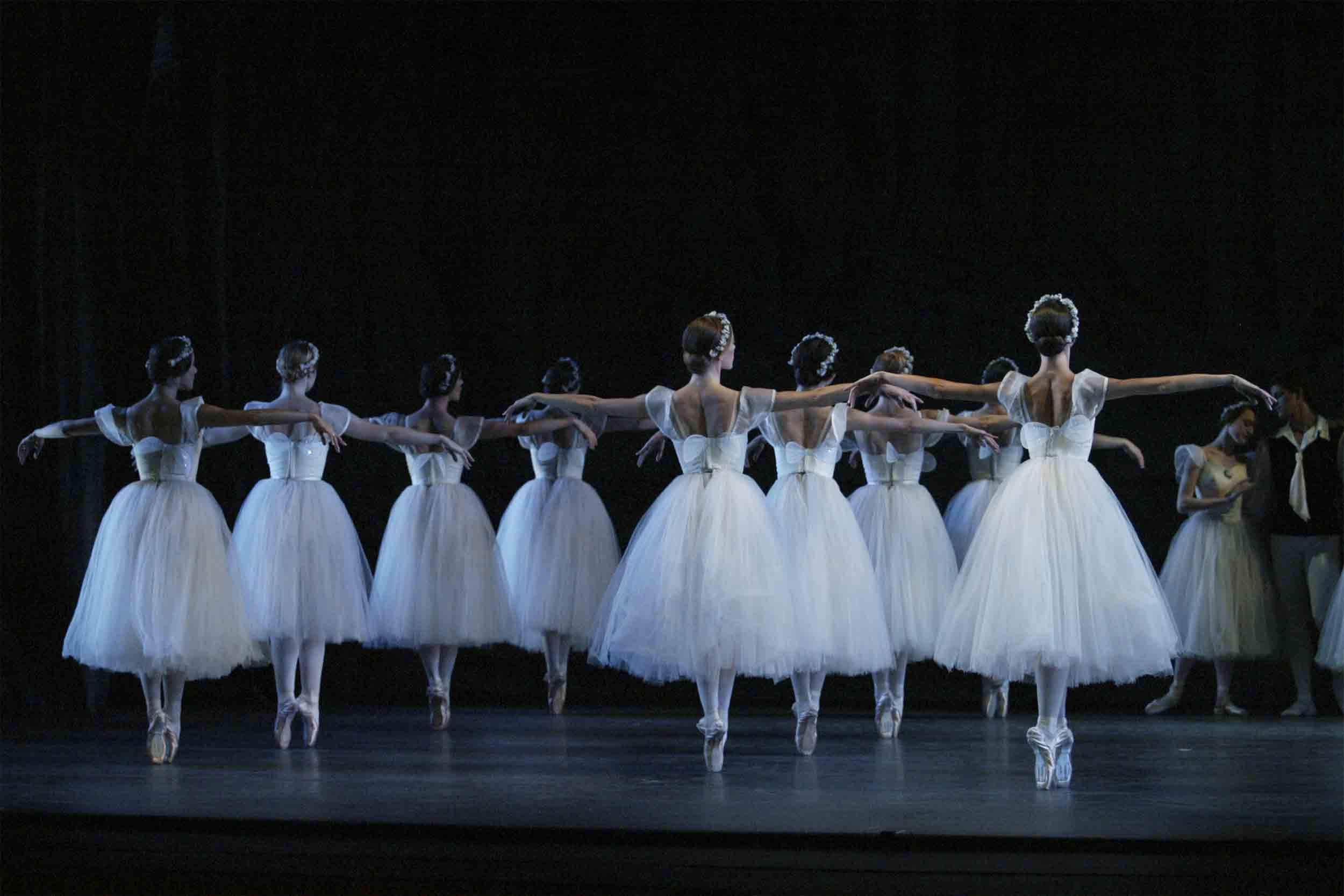 The ideal Les Sylphides, the Sylphides of my dreams—I've seen ravishing fragments of it over the years, most often at ABT—would look utterly spontaneous, a vision that arose on the spur of the moment. ABT's current staging of the ballet, by Kirk Peterson, is one of those ventures that tries so hard to be stylistically correct—an achievement to be sure, but not essentially an aesthetic one—that it ends up devoid of breath. Suffocating under this demand for refinement, the dancing takes on a mausoleum quality. I wished the participants would have a rehearsal or two at which they danced the ballet straight through at a markedly swifter pace than the one the orchestra now assigns it, and another at which, instead of being instructed to parse the choreography, the dancers were urged to "just throw it away."
As the central sylphide, however, Stella Abrera looked windswept, miraculously so. After many a season of efficient but mechanical operation, she seemed to have awakened to the dancer she could be. This was wonderful for the ballet, and wonderful for a performer who has been characteristically steely, not gauzy; determined, not aspiring. Here she took wing, soared, was thrilling. She was weightless and buoyant as gossamer, yet impelled by surging energy. I haven't seen anything like it in Les Sylphides since the days of Lupe Serrano and Sallie Wilson.
Her partner, Marcelo Gomes, offered the familiar beauty of his weighty, velvety dancing, but his performance was over-scrupulous. It was as if someone had painstakingly explained to him how a neo-Romantic poet would behave in a spirit-filled midnight glade and he, affable artist that he is, was doing his best to comply. His work was very picturesque, but not for one moment was I convinced that he inhabited that figure, body or soul. Towards the end of the ballet, he suddenly came tearing through the space like a man possessed, another creature entirely from the one he'd been playing up until that point—as if a coach had seized him in the wings just before his penultimate entrance and whispered urgently, "Loosen up! Go for it!" The moment was incongruous with everything that had gone before, but vividly alive.
The two secondary female leads in the Abrera-Gomes cast—and another pair in an alternate cast I saw—made a conscientious job of the rarefied quality Petersen's staging focused on but were either so over-refined as to be eerie or simply saccharine and bland. Many observers found them lovely, but I can't see how the word "lovely" applies to an effect that's so studied. As for the all-important work of the ensemble of sylphs—which, in motion, complements the soloists, and, in lacy group poses, serves decoratively as their landscape—it, too, was well-intentioned and dutifully executed, but the end result was gluey and dogged by a step-by-step quality that's death to musical phrasing.
The almost unquenchable merits of Petrouchka are, first and foremost, its glorious Stravinsky score, then its opulent, raucous designs by Benois, its imagination-invoking tale of a puppet with a soul, and the fact that the choreography is sound as a drum—both in its construction and its choice of movement vocabulary for each of its principals. Its staging for ABT by Gary Chryst (once a memorable Petrouchka with the Joffrey Ballet) needs to acquire the patina a production accumulates with repeated performance, but seems to be pretty much on the right track.
The individual performances I enjoyed most were Angel Corella's in the title role and Monique Meunier's as the Chief Nursemaid, a character that might slip by unnoticed unless its interpreter made her remarkable. Meunier, lifting her radiant face to the wintry sun and slapping back her long, heavy golden skirts, was both earthy and ecstatic, alive to everything going on in a fairground roiling with diverse personalities and agendas. I wondered how Corella made his benighted then tragically triumphant puppet so telling. Partly, he followed Chryst's canny admonition not to play the role for its pathos. Partly, it's the specificity of his interpretation (every move seems impelled by an idea) and his ferocious concentration. The rest? Perhaps, as Henry James proposed, "the rest is the madness of art."
When I last wrote in these pages about Le Spectre de la Rose, I was astonished to read, subsequently, so many of my colleagues' dismissing it as slight, silly, or impossibly unsuited to this day and age. I still love it a lot. This is how I described it in the fall of 2004: "Le Spectre de la Rose is a nine-minute ballet choreographed by Michel Fokine in 1911 for Vaslav Nijinsky and Tamara Karsavina. It is set to Carl Maria von Weber's Invitation to the Dance and based on a poem by Gautier that opens "I am the spirit of the rose / That you wore last night at the ball." A young woman, having danced in society, comes home to her Biedermeier boudoir. The ecstatic dreams of young romance surround her like a perfume. She draws a full-blown rose from her décolletage and holds it to her face, absorbing its fragrance, then falls, languid, into her easy chair and drowses. A male spirit, costumed as the embodiment of the rose, leaps through her open French doors and dances—all voluptuous virtuosity. The incarnation of nature and its intransigent impulses, he induces the virginal dreamer to join him, then releases her to sleep and vanishes with a faun-like leap that, when Nijinsky performed it, made history."
When I wrote this last season, I thought Herman Cornejo was unlikely to be bettered in the leading role. While I haven't changed my mind, I've enjoyed seeing others do the part this season. As the Spirit of the Rose, Angel Corella chose to emphasize not the phenomenal leaps, but the arm work that, ornamented with unexpected angles and baroque curlicues, makes this figure compellingly strange instead of merely beautiful. He also chose—and I wasn't so keen about this—to make his dancing a flowing stream. Operating on a single, midrange, level of energy, he sacrificed the driving impulse that suits the role and minimized the light and shade that usually enriches his work. Dramatically, he was utterly convincing, conveying the Spirit's urgent purpose in getting the dreaming girl to participate in the headiness of the dance, urging her passage from virginal romance to erotic passion. The young Danny Tidwell, of whom we can expect great things, made a tentative but touching debut in the part—sweet, lyrical, correct. I look forward to seeing what happens next.
The Polovtsian Dances provided a diversion in Borodin's opera Prince Igor, and, if legend doesn't exaggerate, plunged the Parisian audience attending its premiere in 1909 into a state of tumultuous enthusiasm. The piece, devoid of plot, is a travelogue on Tartarland, where the male warriors are gracefully savage; the teenage girls, tomboyishly spirited; and the adult ladies, beauties who veil their faces and bare their midriffs, temptingly sinuous. If the choreography seems hokey and forgettable today, its theme tune—co-opted for that Kismet song "Stranger in Paradise" —will stay with you for weeks. Be warned.
I was happy to see it as a historical artifact, in its present lively staging by Frederic Franklin, the spryest nonagenarian in town. (He knew the piece from his years with the Ballet Russe de Monte Carlo and miraculously got today's dancers to perform the material without condescension.) I was far from persuaded, though, that this ballet is indispensable to my delight in dance. Yet the second grader I took to a matinee of the Fokine program—despite her tender age, a seasoned and discriminating aficionado—liked it best of the four works she was seeing for the first time. Go know. She had the honor, in an accidental intermission encounter, of meeting Franklin, a few minutes with whom could persuade anyone to like anything, so benign and filled with eager, innocent vitality is his temperament. Perhaps only he could stage Polovtsian Dances in good faith.
Photo: Rosalie O'Connor: American Ballet Theatre dancers in Michel Fokine's Les Sylphides
© 2005 Tobi Tobias