American Ballet Theatre / Metropolitan Opera House, Lincoln Center, NYC / May 23 – July 16, 2005
Ever on the lookout for lavishly decorated program-length story ballets—the sort of entertainment the general dance-going public apparently prefers to sterner affairs—American Ballet Theatre joined the U.K.'s Royal Ballet to revive Frederick Ashton's 1952 Sylvia.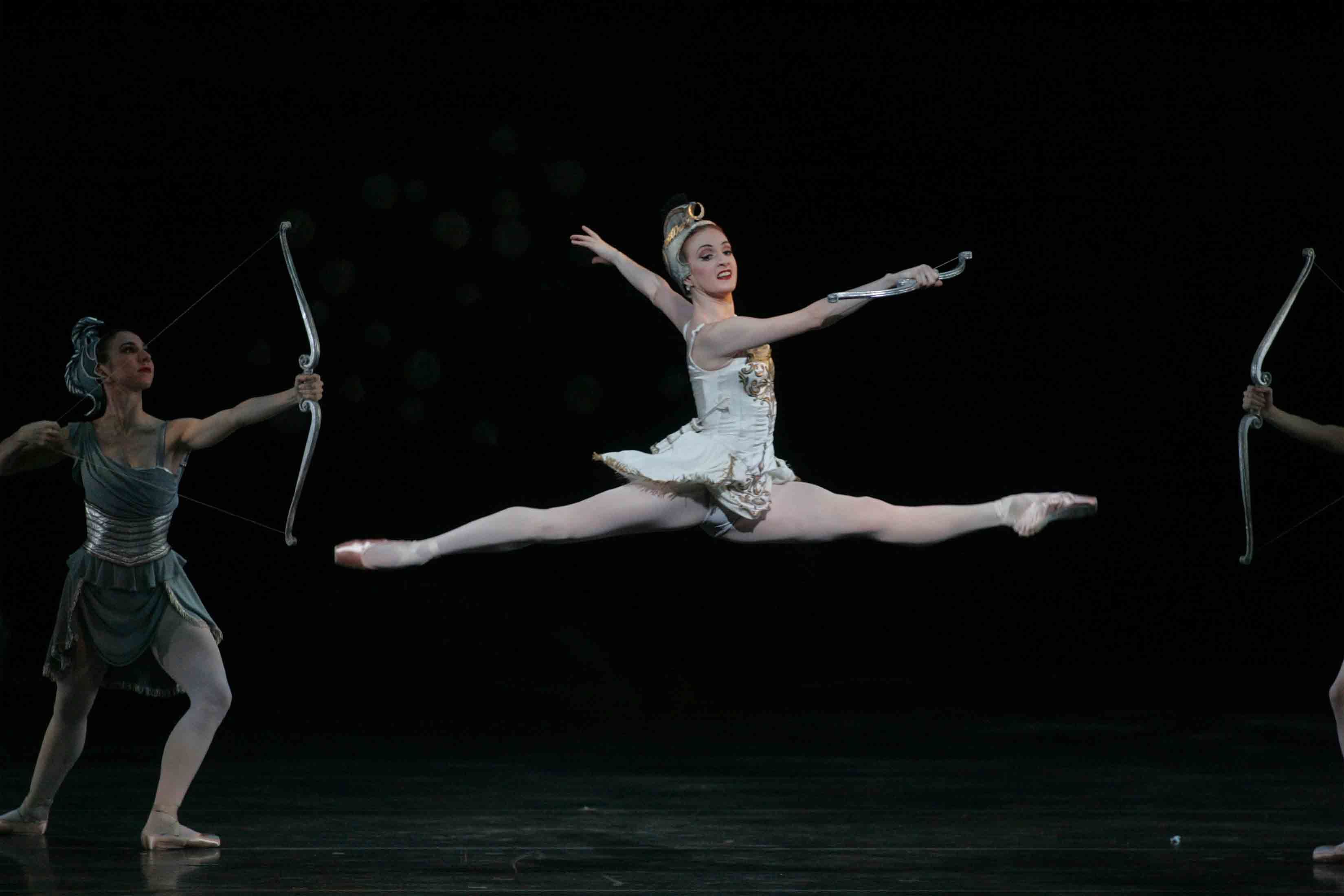 The ballet is set to delectable music by Delibes: the score composed for the ballet choreographed in 1876 by Eugène Lacoste for the inaugural season of the the Paris Opera's lavish Palais Garnier house plus parts of the same composer's La Source. Delibes, dance fans will recall, was the first composer to make ballet music worth listening to even when there's no dancing to look at; he paved the way for Tchaikovsky.
At its creation, Sylvia received a mixed reception. Ashton himself may have had reservations about it; he tinkered with it periodically, even creating a trimmed version and a radically condensed one. Nothing quite succeeded, and the ballet was gone from the Royal's rep by the mid-sixties. Fragments of it, appearing subsequently on gala programs, served as tantalizing reminders that there was something in the work—perhaps a good deal—worth keeping.
The present production, which returns on the whole to the original, was staged by Christopher Newton, a Royal Ballet veteran, who admittedly had to do a good bit of "filling in," his sources being incomplete. A similar restoration process characterizes the current scenery and costumes; the original, Second Empire-style, designs by Robin and Christopher Ironside have been renewed by Peter Farmer. All the beauties of the ballet are still apparent—indicated if not completely realized—as are all the problems: it's too long; the tale is both too unlikely and too flimsy; the divertissements that flesh out the third act are not, all in all, compelling. I concur with the opinion of the British critic Richard Buckle, who, back in '52, called the ballet "a confusion of excellence and weakness." Still, I feel personally grateful to the parties involved for providing me with such a civilized experience in the theater and, for long passages, one of such rarefied beauty.
Ashton's libretto derives from a pastoral drama by the Renaissance poet Torquato Tasso. Sylvia, a nymph of Diana, goddess of chastity (and of the hunt and the moon), refuses the adoration of a shepherd, Aminta, and taunts Eros, the god of love. Eros revenges the insult by forcibly (watch those arrows!) opening Sylvia's heart to softer feelings. At this transformative moment, Sylvia is abducted by Orion, an "evil hunter," and carried off to his luxurious cave to be bent to his lustful will. Eros, who can now count Sylvia among his converts, duly rescues her (not, however, before she has shown some canny resistance on her own behalf) and unites her with Aminta (handsome and pure-hearted as a hero should be, but oddly passive). In a final—and essential—coup, Eros persuades Diana to countenance the pair's love, reminding the goddess (via a vision, of course), that even she has known sensual delight—in her infatuation with Endymion. A galaxy of mythological beings and their attendants duly makes the Sylvia-Aminta nuptials festive, decorative, and grand, but it's the pas de deux Ashton created for the bridal pair that makes the occasion sublime.
When the choreography is wonderful, it is very wonderful indeed. It reveals a lyric poet whose work, intelligent and refined, is also deeply sensuous. The ballet's first act, set in a shadowy glade populated by naiads, dryads, and fauns, as well as a "statue" of Eros that turns out to be alive, creates a mysterious, magical atmosphere even before the narrative action (and thus an expressive element) kicks in. The entire act provides a constant stream of beauty, delicacy, grace, and invention. An exquisitely fashioned dance for Sylvia and her sister nymphs—a private moment in which they allow themselves a respite from the hunt—is a marvel of construction. Opening with a solo of small, tender movements that suggest what the heroine might be if she shed her feminist agenda, it proceeds to interlace the dancing of the solo figure and that of the eight-member ensemble so deftly that the results, a blueprint for astute manipulation of figures, look like a natural, almost casually conversational, event.
Throughout the ballet, steps are used in unusual ways, and this is quietly arresting, as is their subtle, often maverick timing. Despite the "good taste" that characterizes his choreography, Ashton provides the most astonishing lifts, among them one in Sylvia's struggle with Orion that leaves her hanging upside down from his shoulder—all seductive flesh being treated as a hunter's prey. Later, in her final, rhapsodic duet with Aminta, Sylvia leaps fearlessly backward into her lover's arms to end in fish-dive position, like a crescent moon plunged down to hover over—and illuminate—the earth. As with Balanchine's choreography, you look at Sylvia and think, Now whoever would have thought of doing that? Yet at the very same time, what is happening seems inevitable. Of course, the choreographer's signature prevails everywhere—the precise, quicksilver feet coupled with a fluent torso that, as one of his dancers put it, leaves an echo of itself behind.
Ashton created Sylvia for his primary muse, Margot Fonteyn, and it is a paean to her qualities. In the first act Sylvia displays her near-militant chastity, which is erotically alluring in its own way; in the second, she is poignant as a damsel in distress and then, better yet, ingeniously uses her sexual allure to dupe her would-be ravisher; in the last act, all radiant serenity, she embodies the ecstatic love that stands at the border of happily ever after.
In the two casts I saw, Gillian Murphy was excellent according to her own lights. As the occasion required, she was dramatic in her Bette Davis style—proud, resistant, resolute, almost imperious—and then, as the occasion changed, taking her to territory she hasn't yet fully conquered, enticingly erotic (to foil her captor) and, succumbing to Aminta, melting with the kind of love that involves both body and soul. Michelle Wiles, on the other hand, was utterly at sea in a role where her strong, clean technique was insufficient. She's a long, lean American-athlete type, like Merrill Ashley, and would do better in the kind of repertory Ashley danced, where emotional expression wasn't absolutely necessary. Management must have thought otherwise about Wiles, because it promoted her to the rank of principal dancer just after the Sylvia run.
I felt I wasn't seeing just the right people in the two male leads, rather several Mr. Almost Rights. Marcelo Gomes was given a shot at both the love-struck but essentially ineffectual Aminta and the wicked Orion. He was better in the latter role. A born danseur noble, Gomes often looks more interested in his bad-guy roles. Maybe he finds stock-character goodness boring; playing against type seems to stir his imagination—and activate his sense of humor. Maxim Beloserkovsky as Aminta and Gennadi Saveliev as the villain were both too bland. Further performances will improve matters; they almost always do. Let's just hope the ballet stays in the repertory. At the curtain calls of the performances I attended, enthusiasts—I among them—were clapping with the kind of fervor audiences use to save Tinkerbelle's life.
Photo: Rosalie O'Connor: Gillian Murphy in the title role of Frederick Ashton's Sylvia
© 2005 Tobi Tobias