New York City Ballet / New York State Theater, Lincoln Center, NYC / April 26 – June 26, 2005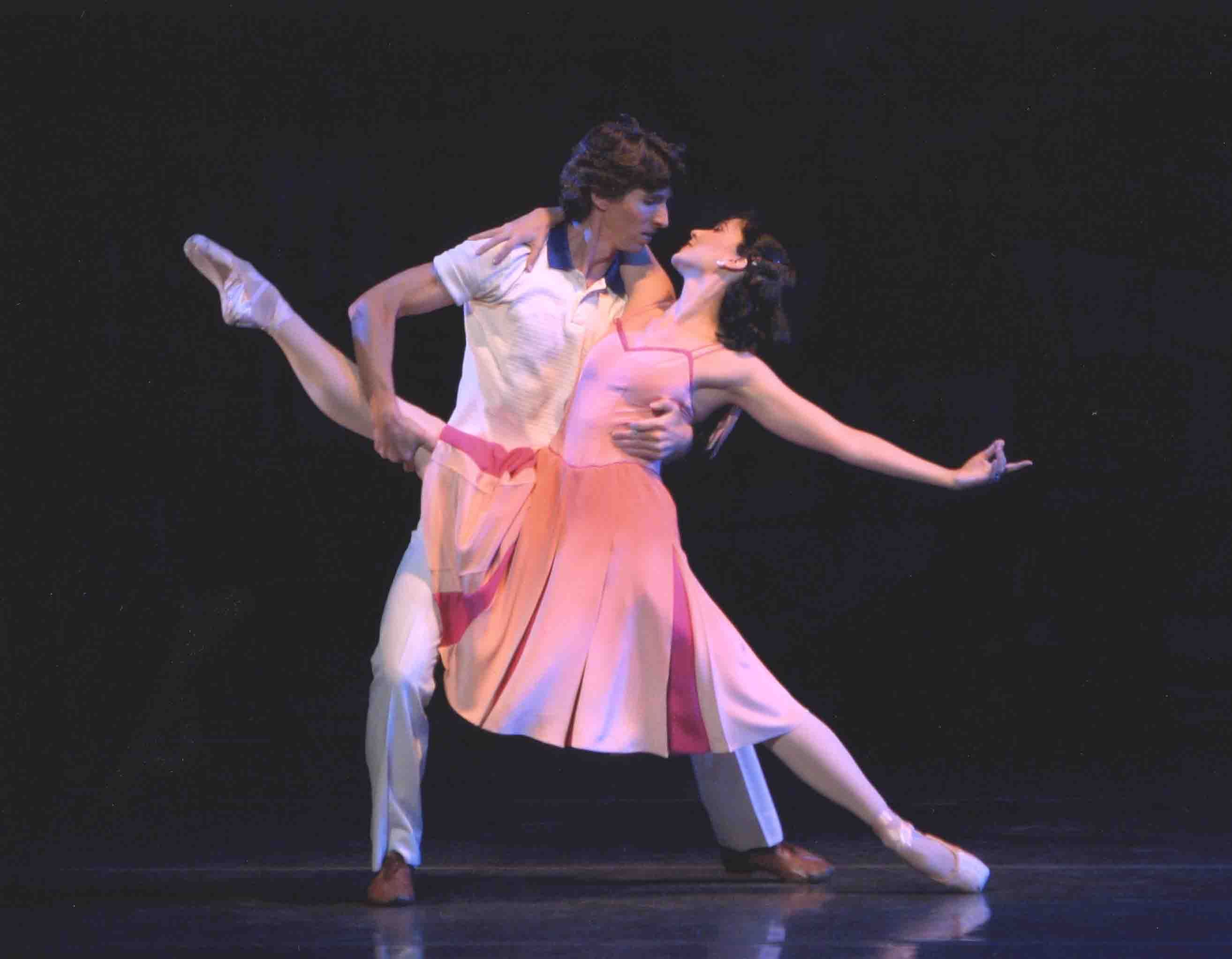 One way or another, gala programs must be striking. This season, the New York City Ballet's boldly shunned both Balanchine and Robbins, the guys who give the company its raison d'être, for five new additions to its repertory—all choreographed by current members of the home team. Three of these pieces were duets that could be taken, obliquely, as windows on the state of dance today, at least on NYCB turf, and the state of love in these postmodern times.
Albert Evans's Broken Promise, set to Matthew Fuerst's Clarinet Quartet, lets you see what's best about Ashley Bouder: the diminutive, taut body—fueled by extravagant but implacably controlled energy—creating sharp, intensely vivid images in the vast space of the State Theater stage. Her costume, by Carole Divet, suggests what keeps some observers (like me) hesitant about joining her growing fan club. It's a sleeveless, backless, cleavage-baring white leotard gaudily studded with giant rhinestones, and it makes her look like a Russian gymnast who's a sure bet for the gold. At first Stephen Hanna seems to be there only to support her when needed, conveniently disappearing when he's not. Then he gets some of his own high-octane stuff, though it's interrupted when she hurtles out of the wings to throw herself at him—literally. Their duets look like physical competitions, sometimes friendly, sometimes hostile, and when the last moves of the dance posit them as lovers bedding down, you're startled to realize that all that previous athletic bravura must now be understood as foreplay. What this piece says about love is that the sedentary among us should hie ourselves to the gym, pronto, or we won't stand a chance.
Benjamin Millepied's Double Aria, first performed by his chamber group, Danses Concertantes, in 2003, takes its name from its music—Daniel Ott's Double Aria for Violin Alone. (Choreographer and composer have collaborated several times and are now preparing a piece for the School of American Ballet's annual showcase in June.) Double Aria puts the violinist (Timothy Fain) onstage so that he's all the more a partner in the proceedings and, indeed, sometimes a soloist, as the dancers fade in and out of the picture. These dancers are an extravagantly (almost eccentrically) long-limbed pair, Maria Kowroski and Ask la Cour. We see them first, then again at intervals, in silhouette, a tactic that emphasizes their shape, as do the repeated vertical undulations and complex intertwinings Millepied assigns them. Kowroski is subjected by her partner to a certain amount of fling-and-drag—a tactic that has cropped up frequently in new pieces at NYCB. I suppose nothing personal is implied when the work purports to be abstract, though—you know how it is—some viewers might just take it personally. The structure of Double Aria wasn't entirely clear to me, but, giving it the benefit of the doubt, and knowing that Millepied is French-born and French-trained, I thought that it might be one of those subtly clever schemes French intellectuals dream up. Waiting for the enlightenment that might come with a second viewing, I enjoyed the air the dance had of being a sketch spontaneously improvised to the seductive meandering of the music. What it tells us about love—or, at any rate, a "relationship"—is that it needn't engage the soul.

Edwaard Liang's Distant Cries, to a plangent Albinoni score, was first seen earlier this season in the repertoire of the chamber group Peter Boal & Company. Danced here, as it was there, by Boal and his frequent partner Wendy Whelan, it is tinged with the dancegoer's knowledge that Boal will retire from performing in June and leave for the West Coast to direct Pacific Northwest Ballet. Liang's choreography and Whelan's increasingly sensitive interpretation of her role suggest themes of loss and grief. (The idea of something irreplaceable's coming to an end is a particularly big deal at New York City Ballet, going straight back as it does to the death of Balanchine.) Liang uses his dancers wisely, capitalizing on Boal's reticence and purity and Whelan's ability to look utterly fragile and malleable without fully concealing a fascinating will of steel. The choreography, if not remarkably innovative, is reasonably adept and unaffected, marred only by some inexplicable peculiarities—suddenly flexed feet in an otherwise classical context and a repeated phrase for the arms that looks as if it should mean something, but doesn't. What it tells us about love is that, no matter how devoted, it doesn't last. Of the messages offered by the three duets, this is the only one to interest itself in tenderness.
Two offerings on the program, by the company's most frequent providers, supplied some expansiveness to contrast with the restricted duet form. In his Tālā Giasma, set to the Estonian composer Pēteris Vasks's Distant Light: Concerto for Violin and String Orchestra, Peter Martins returns to the concerns of his Eros Piano: A man—perhaps searching for an elusive ideal love, perhaps merely a passerby distracted in the humdrum course of his life—encounters more than one alluring but mysteriously remote lady and finds it impossible to opt for this one or that.
This time there are three women (Sofiane Sylve, Darci Kistler, and Miranda Weese), and they appear to be goddesses, or at least nymphs. Sheathed in palely tinted body stockings, they dance in Mark Stanley's delicate dawn light. When the man (Jared Angle, replacing the injured Jock Soto) first comes upon them, they are a benign sisterhood, inclined to lyricism. Once he engages with them singly, their individual temperaments surface. Sylve becomes demonic, thrillingly so. Weese displays an implacable strength, but it is cool and remote, while Sylve's vehemence is sensual. Kistler remains gentle and tender, almost pleading with the man to love her, rewarding him, when he responds, in dulcet terms agreeably tinged with pathos. The three come and go, with the man expressing his confusion (or is it frustrated longing? or dismay?) in solo passages, then masterminding a final quartet. Still he never arrives at a choice, and the ballet ends with him standing behind the women's recumbent bodies, his arms raised toward the heavens.
The choreography makes much of the women's extravagant extensions and some sudden, dramatic drops from a supported position on pointe to the floor, as if to claim that modern-dance turf for classical ballet, which traditionally adheres to an aristocratic verticality. Otherwise, it's pretty much business as usual, including the quotes from Balanchine. Here they're mostly from Apollo (about another fellow who comes upon a trio of lovelies) and are far too many and too literal, co-opting verbatim text only to sully it. It might also be observed that Balanchine has his hero make a clear selection among the three muses, so there can be a central duet that is key to the firm shape of the ballet. Martins's piece seems too long, I think, because it is diffuse.
Tālā Giasma also connects, obviously, to Nijinsky's L'Après-midi d'un faune and, not so obviously, to Bournonville's A Folk Tale, in which, long ago as a young principal with the Royal Danish Ballet, Martins played the hero, Junker Ove. On the surface the golden youth of everyone's dreams, Ove is nonetheless a troubled soul, at odds with his destined bride—and rightly so; she turns out to be a troll. He eventually meets his proper match—all sweetness, light, and purity of heart—but not before he has been set upon by the supernatural Elf Maidens (cousins, you might say, of the wilis in Giselle) whose first appearance, rising from a trapdoor in a dense fog, is as a single woman who suddenly, terrifyingly, morphs into three. I'm not saying Martins was consciously thinking about A Folk Tale when he made Tālā Giasma; I'm saying that what one has seen and done remains irrevocably a part of one's equipment.
Christopher Wheeldon's An American in Paris, the only new piece on the program to boast décor and a sizeable cast, was no doubt an attempt to send 'em home entertained. Despite the blandishments of the Gershwin score, I slunk home depressed at the conspicuous emptiness of the dance and worried about the possibility that Susan's Stroman's Double Feature, which reportedly sold a good many NYCB tickets last year, might be evolving into a regularly used genre, in which a popular vintage movie is co-opted for vacuous shenanigans. Balanchine was no fool. He understood the need for a cheerful program closer. To fill this slot he created ballets like Western Symphony, which was colorful and lighthearted and—for people who cared about that sort of thing—had real choreography. Wheeldon's effort has innumerable reference points, four drops by Adrienne Lobel ( faux-Cubist takes on tourists' Paris—a Seine-side quay, the picturesque rooftops, et al.), and lots of pointless agitation.
Damian Woetzel, playing Gene Kelly, gets to mingle with the requisite generic types of Paris in the fifties: pert jeunes filles; young matrons in straw hats and gloves; anonymous guys in berets; a lady of the night; several gendarmes; a nun and her Madeleinesque charges (only three, so the "twelve little girls in two straight lines" effect was blown); and a cyclist (on his machine) taking a break, no doubt, from the Tour de France. He also gets to dance a bluesy duet with his sweetheart-in-pink (Jenifer Ringer, who curls around him like a kitten) and enjoy a little encounter on the side with an adorably saucy Carla Körbes, who emerges from a unisex gang of street toughs. None of this has any originality as dancing. And then we find out (surprise! surprise!) that it was all a dream. After raiding the film for a few basic situations—and failing to develop them—Wheeldon still counts on our transferring our nostalgic affection for the movie to his pallid show. Gimme a break!
Photo: Paul Kolnik: Jenifer Ringer and Damian Woetzel in Chrisopher Wheeldon's An American in Paris
© 2005 Tobi Tobias