American Ballet Theatre / City Center, NYC / October 22 – November 9, 2003
American Ballet Theatre's annual fall season at City Center, now expanded from two weeks to three, looked foolish even before the curtain went up.
A new marketing ploy organized the repertory being offered into four set programs. The most misguided of them, "Innovative Works," served up Nacho Duato's Without Words, William Forsythe's workwithinwork, and Within You Without You: A Tribute to George Harrison, choreographed by various hands, including David Parsons, who has a deft finger on the pulse of popular taste. "The W Show," as I came to think of it, restricted itself to presenting dancers clad for today–in unitards, low-slung jeans, and gloom. I assume it was designed for folks who feel threatened by tutus. Only the Forsythe piece, a strong, concise example of his post-Balanchine style, was worth a moment of one's time.
This inflexible system all but guaranteed the annoyance of potential ticket buyers with some knowledge of the art. For instance, Balanchine's diamond-brilliant celebration of classical dance Theme and Variations could be seen only at the opening night gala or the "Family Friendly" matinees, occasions that tend to be undermined by restless audiences (the all too rich and the all too young). It created a few delicious absurdities as well. Agnes de Mille's charming revue-style romp from 1934, Three Virgins and a Devil, also relegated to gala/matinee position, may well have entertained underage spectators, but surely it occasioned a dubious instructive opportunity: "Mommy, what's a . . . ?"
The issue of virginity also dominates Antony Tudor's 1942 Pillar of Fire, given the imprimatur of placement on the "Master Works" program, as if its being one of the twentieth century's most potent dramatic ballets–a searing essay on sexual repression, revolt, and redemption–were an insufficient guarantee of its worth. Donald Mahler, apparently the official purveyor of Tudor to ABT, staged this revival, and I attribute its failings largely to him. His productions of Tudor, attentive to detail, invariably lack a governing theatrical impulse. Watching them is like looking at a picture painted by numbers. The discrete images are there, but they don't quite cohere, and they don't seem driven by an intense vision. I wonder if Sallie Wilson, once a notable ABT interpreter of Tudor roles, who now mounts Tudor's choreography elsewhere, might be more capable of restoring the essential dynamics to this ballet.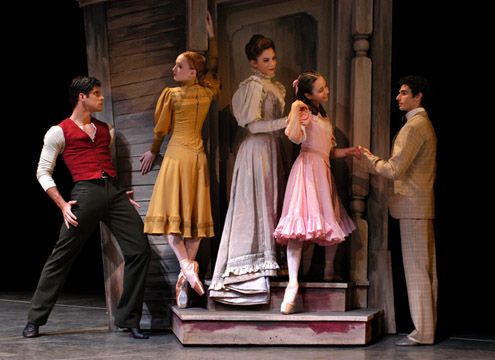 Granted, the present time has not cultivated dramatic dancers like Nora Kaye, who originated the role of Pillar's tormented heroine, Hagar, and brought to it a turbulent force at once physical and psychological. Gillian Murphy, distinguished by her grandeur of body and technique, is promising in the part, but as yet almost adamant in her refusal to let Hagar's situation and feelings engulf her. Julie Kent–an ethereal beauty, and thus cast against type–is naturally too fragile in style (Hagar's plight is not an occasion for delicacy) and, like Murphy, too placid, almost immune to what Tudor tells us is going on. Toward the end of the ballet, though, she offered a glimmer of authentic feeling. (I'm writing this before Amanda McKerrow takes her turn in the role.) In both casts I saw, the character of Hagar's male foils–the one who offers her sex (Marcelo Gomes; Angel Corella) and the one who offers her sympathy and a future (Carlos Molina; David Hallberg)–hadn't cohered. Only Xiomara Reyes, as the little minx of a younger sister, is already perfect in her part.
Another masterwork, a revival staged by Wendy Ellis Somes of Frederick Ashton's 1946 Symphonic Variations proved to be the chief of the season's pleasures. This infinitely serene dance for six, set to César Franck's Symphonic Variations for Piano and Orchestra, is about as abstract as dance can get. Nevertheless, it projects a strong atmosphere of hard-won serenity, of calm after storm, of people resuming their communal lives after devastating disruption. The date of the work–1946–is a clue to the meaning embedded in the choreography. When, as they periodically do, the dancers run in a serpentine pattern across the stage, linking hands as they travel to form an ephemeral human chain, it would be hard not infer a message about life's fragility and the unquenchable human desire to reclaim territory and connections after even the gravest violence has been done to them.
However one chooses to interpret the dance, its overall effect is one of sublimity. This is odd, considering how much of the movement in Symphonic Variations is most peculiar. Time and again, the use of the arms and hands systematically contradicts balletic convention. The arms frequently extend straight from shoulder to wrist instead of rounding softly. They thrust athwart the torso rather than graciously framing it. They shield the head, masking expression. The hands stray from their prescribed cupped position, fingers arranged like tendrils, to an emphatically closed, flat one, sometimes sharply angled from the wrist. Even odder is the fact that these deviations from the classical norm actually blend in with the lovely acquiescence to its rules that prevails in the ballet, the new and strange being absorbed into the old and, what's more, enhancing it. Is Ashton giving us an illustration of how the academic dance ballet vocabulary has evolved?
Every member of the first cast (the second hadn't performed at press time) looked dedicated to getting the dance right, and the purity and steadiness of this aspiration was, in itself, infinitely touching. Thus far, Ashley Tuttle, an exemplar of the classical style in its gentle mode, is the only one in the sextet to achieve the illusion of repose ideal for the choreography. Her accomplishment is evident both in the harmony and composure of her dancing and in the moments–one of the ballet's most telling motifs–when she's utterly still, like a breathing statue or a Zen practitioner, just being. Tuttle's role was originated by Margot Fonteyn, and her rendition of it, though utterly free from the strains of imitation, serves as a homage to her predecessor.
Providing a certain requisite dazzle, the company offered an excerpt from Marius Petipa's 1898 Raymonda. Staged by Anna-Marie Holmes, who specializes in the nineteenth-century Russian classics, and ABT's artistic director, Kevin McKenzie, the ballet is slated for performance in its full-length guise during the company's 2004 spring season at the Met.
Over at the New York City Ballet, George Balanchine, who, at various times, excerpted the segments of Raymonda that remain viable for a contemporary audience, seemed fully aware that, despite its glorious Glazounov score, the whole show, with its murky narrative set in medieval Hungary, will no longer fly. ABT, from earlier attempts of its own to resurrect a surround for the indisputably marvelous passages in the choreography, should know this too. Maybe some audience survey, revealing the general public's yen to be told a story in a lavish setting, persuaded ABT's management to try again. (Management has never been known for a firm aesthetic stance.)
This season gave us a preview of the upcoming production, the "Grand Pas Classique," which provides legitimate occasions for that ABT specialty, male pyrotechnics, along with the show-offy glamour of svelte, smiling beauties arrayed in fur-trimmed tutus. More important, it contains splendid choreographic inventions–a solo for the ballerina that's inflected with signature moves from the czardas; a male quartet based on the camaraderie and competition at the heart of male bonding; and experiments with the hierarchical distinction between soloist and ensemble that are strikingly forward-looking.
Things weren't going too well yet at the performances I saw, one led by Paloma Herrera and Jose Manuel Carreño, the other by Michele Wiles and Carlos Acosta. The text for the male lead's big solo seemed to adhere to the instruction "Don't worry, it's not set in stone. Just do your flashiest steps." The pas de quatre guys, having established a gracious, genial relationship, flubbed the series of double air turns that's the element everyone remembers from their material. Meanwhile, the ballerina role is crying out for intensive coaching from Martine van Hamel, who, in earlier ABT versions, embodied just the right dual image for Raymonda: tsarina of Imperial Russia and gypsy full of secrets, many of them erotic.
On the "Contemporary Works" program, a matched pair of acquisitions created by the celebrated Jirí Kylián, whose home base is the Nederlands Dans Theater, were juxtaposed with a home-grown novelty, Robert Hill's Dorian. Hill has taken as his springboard Oscar Wilde's macabre, titillating tale in which a narcissistic man remains young and beautiful in appearance while his portrait registers the progressive corruption of his soul. The family unfriendly subject matter is undeniably tempting, but Hill simply doesn't possess sufficient craft to re-animate–in terms of ballet–the narrative, the characters, or the lusciously decadent mood of his literary source. The mime necessary to convey the scenario is not so much acting as "sort of" dancing, which leaves matters vague, while the set pieces of dancing, which should spring from the story line like aria from recitative, are so thin, pallid, and predictable as to seem nonexistent. In the course of the near hour it took for Dorian and his doppelgänger to come to their horrific end, I couldn't help wondering, What would Antony Tudor have done?
Despite follies of programming, casting, and coaching and the perennial tug between the concerns of commerce and those of art, the ABT season repeatedly delivered little miracles. One instance of utter perfection: the Cornejo siblings, Erica and Herman, as the Couple in Yellow in Martha Graham's Diversion of Angels. Light, swift, exuding joy–working, rightly, from a gut-sprung base–they equal, perhaps surpass, the finest Graham-bred exponents of the roles that I've seen. On them, the choreography that classical dancers struggle with because it is basically alien to their training suddenly, astonishingly, looks spontaneous.
Photo: Marty Sohl: Marcelo Gomes, Gillian Murphy, Erica Fischbach, Xiomara Reyes, and Carlos Molina in Antony Tudor's Pillar of Fire.
© 2003 Tobi Tobias