The new Rifftides recommendation of Bob Dorough's CD Eulalia mentions that his daughter Aralee, who appears on the recording with him, is a symphony musician. Ms. Dorough has been the principal flutist of the Houston Symphony since 1991. Aside from a few chamber music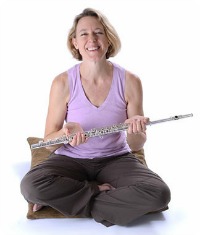 ensemble performances, little of her work is accessible on the internet. The exception is video of a 2011 recital of Béla Bartok's Romanian Folks Dances. Bartok's effect on jazz musicians is not only direct but also through the works of Eddie Sauter, Bill Holman and other composers and arrangers influenced by the great Hungarian composer. In these delightful little dances, we hear some of their source materal. Ms. Dorough plays the pieces with joy and skill that make the shaky amateur camera work bearable. The audio quality is good. Her introduction and tuneup are interesting, but take a while. You can bypass them by advancing to 2:20. The piano accompanist is Charles Blood.
For information about Aralee Dorough, see her website.