The Portland Jazz Festival booked Cécile McLorin Salvant to open for bassist Buster Williams's "Something More" quintet, but she and her trio headed by pianist Aaron Diehl came close to stealing the show. The 24-year-old singer captivated an audience most of whose members were hearing her for the first time. As noted last summer in the Rifftides recommendation of her only album, she emerged, virtually unknown, as a fully developed artist. Salvant's contralto, impeccably in tune from sub-basement low notes to thrilling high ones, is comparable to Sarah Vaughan's. In Portland, those deep tones in the Gershwins' "It Aint Necessarily So" got the set off to a thrilling start. Her interpretations of some songs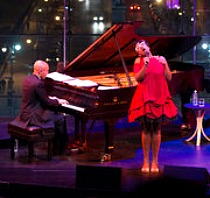 carried slyness and irony reminiscent of Carmen McRae. She is partial to little known material, and gave an actor's timing to pauses in "Nobody," a specialty of the early 20th century black vaudevillian Bert Williams.
Salvant resuscitated the little known verse of "If This Isn't Love," then initiated irresistible swing as she moved into the chorus, inspiring Diehl to one of several memorable solos during the set. Her bright red dress, red pumps and white-rimmed glasses matched the drama Salvant imparted to a slow version of "So in Love." At one point she made the word "so" seem to last forever and at another dressed the lyric with a kittenish rasp. She employed those risky techniques and a judicious bit of melismatic vowel manipulation in "He's Gone Again" not as gimmicks but in the service of the music. Diehl, bassist Paul Sikivie and drummer Peter Van Nostrand have developed empathy with Salvant that make the four not merely a singer with a rhythm section, but a band. Following a stunning version of Bernstein's "Something's Coming," Salvant answered the crowd's demand for an encore by reaching into her bag of old songs for "I Wish I Could Shimmy Like My Sister Kate" (1922) and bringing it up to date.
Buster Williams led trombonist Julian Priester, saxophonist Benny Maupin, pianist George Colligan and drummer Cindy Blackman-Santana in a set called "Something More," after the title of a 1989 Williams album. The sound and thrust of the band, however, was more reminiscent of pianist Herbie Hancock's Mwandishi, which featured Williams, Priester and Maupin. A revamped rendition of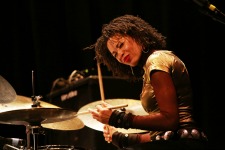 Thelonious Monk's "Epistrophy" was a highlight of the set. Blackman-Santana was spectacular not only to hear, but also to see in her bright gold blouse (photo of Blackman-Santana by Mark Sherman). She connected with Williams in mutually supportive and interactive rhythm throughout the set, as did Williams and Colligan, particularly in "All Of You." Priester sounded a bit tentative, but in a moving solo on the ballad "I Didn't Know What Time It Was," found himself.