Rifftides outgoing traffic has slowed in the past few days because the proprietor&#151or is it perpetrator?—has been nose-to-the-grindstone, meeting a deadline for a liner essay to accompany the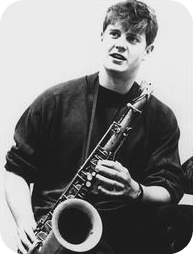 tenor saxophonist Eric Alexander's next album. The young Alexander (pictured) spent his first round of salad days in Chicago. The CD commemorates that period and the Chicago jazz tradition. The performances are by Alexander's current band, which includes one of his college teachers—the veteran pianist Harold Mabern—bassist John Webber and drummer Joe Farnsworth. Trumpeter Jeremy Pelt joins on a few tracks. Alexander's first gig was in an organ trio backing singer Lenny Lynn. It was sink-or-swim on-the-job ear training. In the course of research, I came across evidence of Alexander's progress on the bandstand. It's a track from a 1998 Lenny Lynn album that features guitarist Dave Specter and on a few tracks, the fledgling tenor man. The organist is Rob Waters, the bassist Harlan Terson, the drummer Mike Schlick. I thought you might find it interesting.
That's the kind of research I like. Have a good weekend.