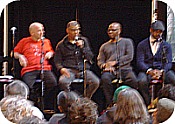 Conversations with musicians are valuable sidebars to performances at the Portland Jazz Festival. They allow audiences to hear artists talk about what they do. At the Art Bar, drummer and radio host Carlton Jackson rounded up four prominent drummers and asked them:
"When every element is in perfect alignment—compatible musicians, the right room, good sound—how do you approach the music?"
Here's some of what they said.
Jack DeJohnette: "I go into an alternate space, and once I touch a cymbal or other component of the instrument, I'm off."
Lewis Nash: "I feel a wave of gratitude to be a part of it."
Chris Brown: "It allows me to get back to being like a baby—that sense of wonderment, discovery."
Joey Baron: "Clock time stops. I'm right there, right then. I never know if it's clicking until the music starts. I enjoy surprise. I want to be a part of the surprise."
(Above, l to r, Baron, DeJohnette, Nash, Brown)