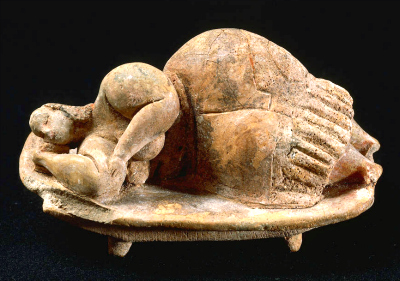 If you're an art-lover (and writer) headed toward Malta, as I was last June, the first artwork that comes to mind is Caravaggio's masterpiece in the Valetta cathedral, The Beheading of St John the Baptist. Brilliantly conceived and titanic in size–12 ft by 17 ft–it is the only work Caravaggio ever signed. It hangs in a separate room in the cathedral shared only with Caravaggio's St. Jerome Writing, which would certainly catch your eye if set in an ordinary paintings gallery. Here it might be overlooked!
While I did visit those works–my only complaint is that the cathedral keeps visitors very far away from the St. John work and I did not bring, as one Japanese tourist did, a pair of binoculars–I wanted to write about something different, something not as well known, something that needed more attention. Caravaggio has lines waiting to see his works.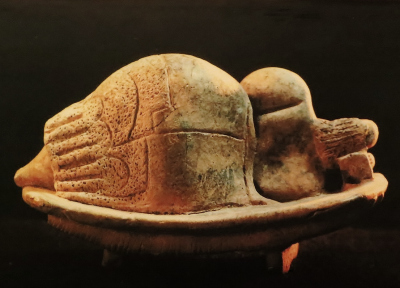 On the other hand, the little gallery in Malta's National Museum of Archaeology that houses "Sleeping Lady" (c. 3000 B.C.) was empty most of the time I was there. I had her to myself. She is tiny, unlike the Caravaggio, but there too one cannot get too close.
Nonetheless, I wrote her for the wonderful Wall Street Journal masterpiece column, and my article, A Powerful Symbol of a Lost Civilization, was published on Saturday.
The Sleeping Lady is quite strange, as you'll read (if you cannot get behind the WSJ pay wall, you can find the article on my Facebook page–I made the post "public.").  A few excerpts:
…she is corpulent, with bulging upper arms, wide hips and ballooning thighs that overwhelm her small head…she is nearly complete and wonderfully detailed considering that whoever made her had only primitive tools of bone, stone and, possibly, wood with which to work….

She is naked to the waist, revealing ample breasts. She wears a skirt covering her knees that is decorated near the bottom with fine pleats and dots that some believe resemble embroidery. Both the front and back of her skirt are marked down the center, as if joined by a seam, and the skirt seems to have a waistband….

"Sleeping Lady" has so far proved to be unique, but she comes from a culture that produced other so-called fat ladies…interpreted by some scholars as goddesses—mother goddesses, earth mothers, fertility goddesses—whose obesity signifies the abundance of the land in which they were a totem…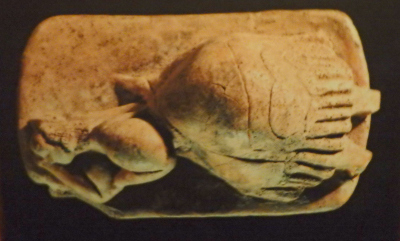 She is different from the others, though, and I prefer the interpretation of her as an illustration of death, or death as eternal sleep, perhaps an allusion to belief in an afterlife.
Now you have another reason to visit Malta–and there are many more.
Photo Credits: Courtesy of the WSJ (top), Wiki Commons (middle), and me, a photo of the museum wall label showing her from above (bottom)