As I mentioned yesterday, the soon-to-open Museum of the American Revolution will hang a copy of Louis Charles-Auguste Couder's Siege of Yorktown (1781). It hangs in the Hall of the Battles at Versailles. The copy, I've now learned–from an advance of a press release that will be issued on Friday–"is believed to have been painted by artist Henry LeGrand in Paris and exhibited in 1860 at the Chicago Art Union."
The painting depicts Washington and Rochambeau giving orders at Yorktown, Virginia. Rochambeau played a major role in helping the Continental Army win the war. The two men stand in front of a marquee tent much like George Washington's Headquarters Tent, one of the most iconic surviving artifacts of the Revolution, which also is featured in the Museum.
It's a large work, 13-by-17 feet and 16-by-19 when framed.
The painting has been restored and the museum is installing it this week. I thought you might like to see some of the action. (Here's a look at the original.)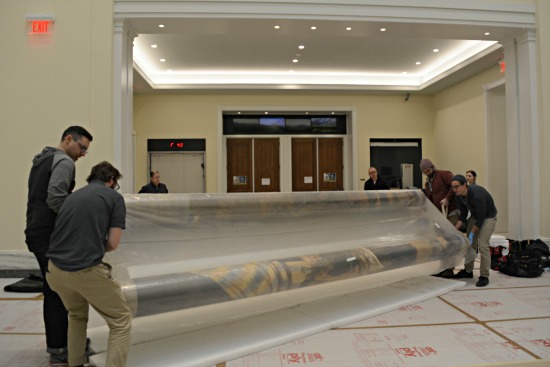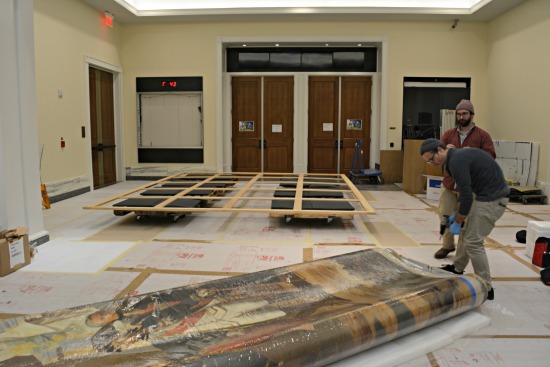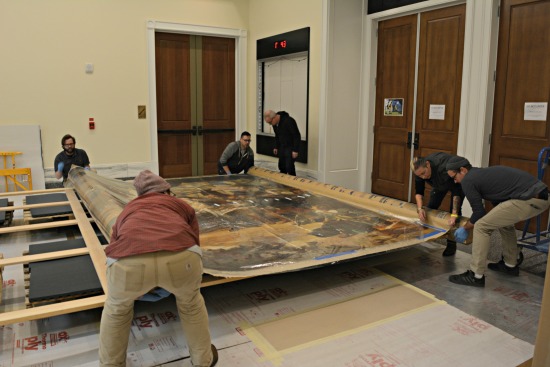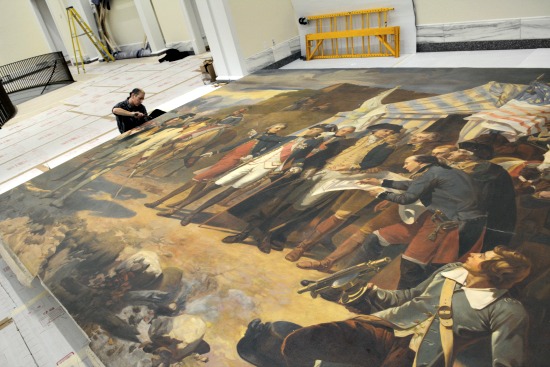 There's more: on the two walls flanking the LeGrand, the museum is hanging "two late-19th-century paintings by Harrington Fitzgerald, a Philadelphia newspaper editor and writer who took up painting and is believed to have studied with Thomas Eakins." The Foraging Party depicts Washington and his troops at Valley Forge, while the opposite wall's canvas is Washington Crossing the Delaware.
Photo Credits: Courtesy of the Museum of the American Revolution