I don't know all that many people, aside from curators doing research and wealthy collectors, who hop on a plane a fly overseas mainly to see an art exhibition. But that is what has been happening in recent weeks for Icons of Modern Art: The Shchukin Collection at the Fondation Louis Vuitton in Paris. I did it myself over Presidents' weekend, and–thanks to airfare and hotel sales, largely due to a drop in tourism in France attributed by many to terrorism fears–believe it was worth every penny I spent.
(The last time this happened, I think, was 2011, when the National Gallery in London presented Leonardo da Vinci: Painter at the Court of Milan. I am sorry I didn't make the trip for that one.)
The Shchukin show is simply amazing. The highlight is a roomful of Matisse paintings, including The Red Room (Harmony in Red). It faces a wall with The Pick Studio in the center, as seen here (I got in as soon as the exhibition opened–later this room was much more crowded):
But there are so many surprises too–a tapestry work by Edward Burne-Jones; Picasso's Portrait of Soler; a little Rousseau titled View of the Port Sevres, with a balloon, a biplane and a dirigibl; a wonderful Cezanne self-portrait; many Picassos, and a great roomful of Gauguins.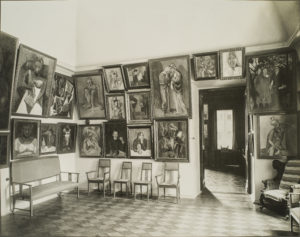 Shchukin bought these works between 1898 and 1914–the 130 at FLV, and another 145 or so–from top dealers like Vollard, Durand-Ruel, Bernheim and Kahnweiler. He displayed them cheek-by-jowl, too close together, as at right, and he opened his home to Russian artists, who learned from his collection.
The cost to mount this exhibition, I've heard, exceeded $1 billion in insurance, shipping. couriers, display/installation, preparation and publication of the catalog and other books (I bought an abbreviated paperback about the exhibition, rather than carry home a very weighty catalog), security and so on. Managing the lines to get into the FLV, located in the Bois de Boulogne, probably cost extra too! They are long.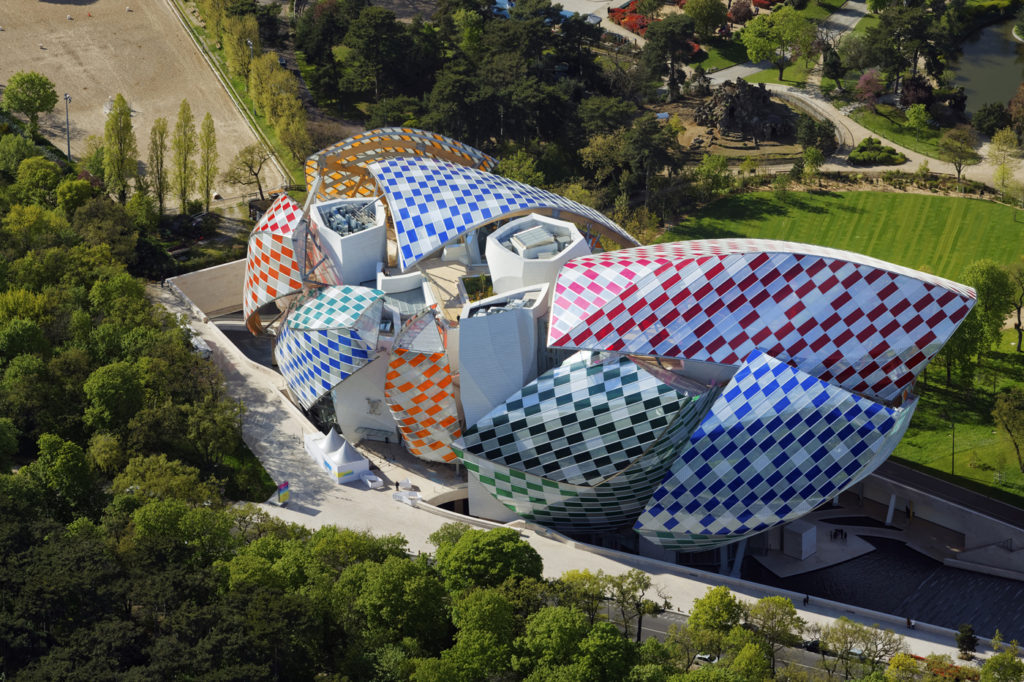 But that's not the reason to go. The reason to go is this: seeing these works together, in the west rather than in Russia, where the collection is split anyway–is unlikely to happen again, at least in our lifetimes. Which is why, in the three days I was in Paris, I knew of neighbors with no art world connections who went over, ran into some friends at the Musee d'Orsay who had arrived just for the Shchukin exhibition, and learned of a few other friends who had done the same on other recent weekends. And that doesn't include the curators who spent their own money to go.
The one false move, for me, was an opening multi-screen video installation by Peter Greenaway and Saskia Boddeke that creates a conversation between Shchukin and Matisse, largely about his murals La Danse and Music, and gives minor roles to other artists. It comes off as very phony and not terribly entertaining.
If you can, I encourage a visit–the exhibition was extended until Mar. 5.
The FLV building, designed by Grank Gehry, seemed to me to be good for art, with grand galleries, small spaces and good traffic flow–but I did not like the colored splotches (blue, yellow, green, red) added by French artist Daniel Buren in a temporary installation titled Observatory of Light. The building is more beautiful without Buren's work (at left, in a picture that makes it look good!), which said nothing to me.
Before Icons, FLV had been showing its collection, owned by Bernard Arnault, in different hangs, which you can see here. I cannot tell you whether they were good. But with Icons, Arnault has done the world a favor.