It's coming–possibly Wednesday or Thursday of this week, though I doubt there will be any "announcement." Rather, employees will learn of the museum's financial outlook at a town hall meeting in the museum.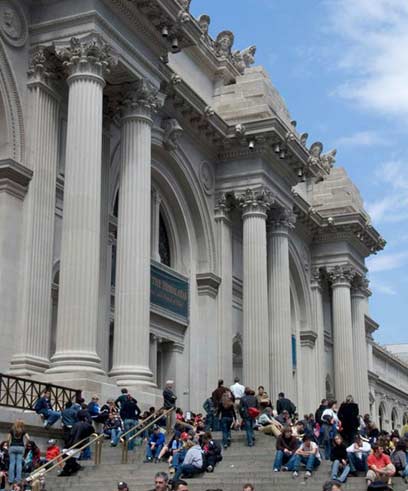 I don't have any numbers, but the gist of the message coming from management–Director Tom Campbell and President Dan Weiss–will be that the museum's financial difficulties have not been resolved, are unlikely to be in the near future. The original plan announced last spring, for a two-year financial restructuring, created hopes that staff cutbacks, pay freezes, a "soft" hiring freeze and other trims would make up for the revenue lost to lower admissions, poor retail sales, the rebranding campaign, the cost of the Breuer building and other items.
Now, more measures seem likely and the restructuring will last five years, not two.
Morale among the museum's staff is also very low, I'm told by several sources, and recently got worse.
In December–I have not seen this news anywhere else–the Met cut employee benefits. Specifically, it lowered the contributions it has been making to employees' 403(b) retirement funds. In the past, the Met had been known for its generosity in matching employee contributions and, I've been told, full vesting took only two years. (The museum have also have changed medical benefits; I'm not sure on that one.)
Consequently, an internal group known as the Forum of Curators, Conservators and Scientists, has complained. Currently headed by Soyoung Lee, the curator of Korean Art, the group voted on and then sent a protest letter to Campbell, Weiss and Daniel Brodsky, the board chair. I could not obtain a copy of the letter, however. It was not circulated widely, presumably so that it did not fall into the hands of the press.
For all these woes, though, the exhibits continue to be stellar. Jerusalem, Beckmann, Valentin, Kerry James Marshall are just a few of the best right now. How long this can continue, with staff leaving and going unreplaced, is a big worry.