But enough about the Met, for the time being at least. Let's let a little dust settle there. Can we talk about art for a day?
Specifically, I want to commend the Bowdoin College Museum of Art for its current exhibition, This Is a Portrait If I Say So: Identity in American Art, 1912 to Today, which I've reviewed in tomorrow's Wall Street Journal. It is billed as "more than 60 abstract, symbolic, and conceptual portraits across a wide range of media–reexamining over a century of portraiture and inspiring new ways to see ourselves and others." The exhibition may be introduced with splashy red walls, but the labels–many of those for individual works run to more than 200 words–use words like "non-mimetic." This is not for low-brows.
Given the push for crowd-pleasing exhibitions these days, it was a gutsy show to present. True, college museums are in better position to resist the pressure to present dumbed-down shows, but they are not immune to trends.
It was also a bit risky because, as I write in my review, much of the art in the show is not visually attractive, though it may be interesting. The intellectual content of some works is high, while others are humorous and some are even (to me) pranks. They employ symbols, everyday objects, typography and–later in the show–a lot of technology. Many, as Anne Goodyear, the co-curator who is also co-director of the Bowdoin Museum, told me, are "friendly representations, or teasing ones…done in the spirit of fun and friendship."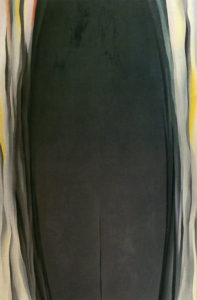 The roster of artists in the show is impressive. They include Duchamp, Man Ray, Picabia. Eleanor Antin, O'Keeffe, Dine, Yoko Ono, Ross Bleckner, Roni Horn–the list goes on.
Specifically, you can see Marden Hartley's Portrait of his German lover, Karl von Freyburg, and Antin's Carolee Schneemann, which consists of jar of honey, a velvet-draped easel and a full-length mirror, and Rirkrit Tiravanija's Untitled 2008-2011 (the Map of the Land of Feeling I-III), a set of three mixed media scrolls that capture his movements around the world via his passport pages. Tom Friedman's "Untitled" looks like an abstract color field painting—horizontal stripes—but is actually a rearrangement of the pixels in a digital portrait of himself. With nothing conventionally identifiable, the work mysteriously seems to be the opposite of a portrait. And is O'Keeffe's Green-Grey Abstraction (right) a portrait, and of whom?
There is a problem for the casual visitor: To assess the success of some works, you have to know something about them and art-world networks. Or you have to be willing to learn. To get the most of out this exhibition, you have to work a little. But you will learn.
Photo Credit: Courtesy of the Bowdoin College Museum of Art