It's not quite The Car Guys, but an exchange at a recent symposium at the Frick's Center for the History of Collecting* has tickled a couple of people I know, who mentioned it to me. It's called Philippe de Montebello Interviews George Goldner and it's about Golder's career buying drawings at the Getty and, ahem, the Metropolitan Museum of Art.* (The two have an exchange about "The Met" and, later, "The Met-82nd St." which may be inside baseball to some but not to others.)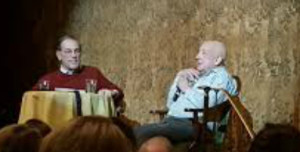 There are a number of gems, including, in no particular order and very briefly:
The difference between acquiring a painting and a drawing at the Met: trustees think they know something about paintings but most confess they know less about drawings. "So it's easier to step off in a corner and do what you want," Goldner said. "You can overwhelm them with fear of their own ignorance."
And another difference: some trustees do not understand why they should buy drawings by some artist whose name they do not recognize. "But a great drawings collection should have great things and others that illuminate the great things" and more. Goldner says a museum should want a mix.
Personal taste shouldn't rule. Goldner says he bought German baroque drawings even though he didn't like them. And he doesn't think Courbet, for one, can draw, but he still bought a piece of his. "I've never looked at it since we bought it, and if someone gave it to me I wouldn't hang it," he said.
He  bought about 8,000 drawings for the Met. Over his 35-year career, "I've never gone more than a month without finding a drawing I wanted to buy."
There's no real dearth of great works out there–what there is is a decline in interest in buying drawings.
And can you guess his answers:
What is "the plague …that has overwhelmed art museums?" (About 21 minutes in…)
Whether he made mistakes in his purchases? (Yes, but what?)
What he most regrets not buying–and more important why?
*I consult to a foundation that supports the Met and the Frick