The Metropolitan Museum* put on a show for the press last week at a briefing on the Met Breuer. It took place, oddly (for the Met) in a black gallery in the main museum building and over cocktails at 4 o'clock in the afternoon. Tom Campbell, Sheena Wagstaff, Jeff Rosenheim (photography) and Limor Tomor (performances) spoke. I was encouraged by two things in particular: Campbell said that the Met has spent time and money spiffing up the building, returning it to the condition in which it opened in 1965, they said. Wagstaff spoke also somewhat, and I learned more in conversations over drinks, by the range and potential of Unfinished: Thoughts Left Visible, the first large exhibition set for the Met Breuer. I hope the exhibit lives up to its potential, which is large.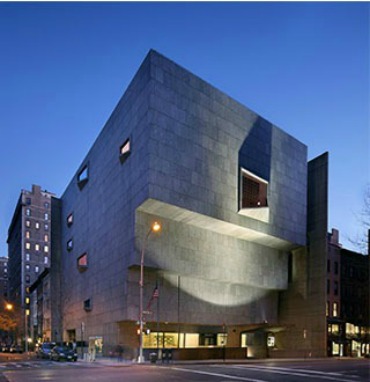 The building opens to the public on March 18, to members beginning March 8, and–presumably–to trustees, donors and patrons before that.
And, I would hope, to another group, for the Met Breuer has a very big job to do aside from showcasing modern and contemporary art in historical context, as only the Met can do. The Met Breuer must win over potential patrons, specifically collectors of modern and contemporary art.
It's no secret that the Met's collection in these areas is, shall we say, full of gaps. But I'm not sure the extent of the gaps have been digested by the press, though surely Wagstaff knows.
So today I conducted a little exercise. I made a list of the top best-selling living artists last year, American and European. I added in a few names, like Kiefer, that few people would quarrel about as important. Then I put all of their names into the Met's online collection database, and recorded the number of works by each the Met owns, the number on view, and whether or not (Y or N) the Met owns a major piece. (? means it's debatable.)
The results are  below.
I know there will be quarrels with this list. The market doesn't rule taste or historical importance, I agree. I actually hope the Met doesn't acquire art by some people on the list. But this roster is better than an arbitrary list drawn up to my taste. And by the very fact that these artists attain high prices at auction, the Met probably cannot afford to buy them, and therefore must depend on donations from collectors.
The Met does have something to offer collectors, and rightly it is the historical context that might make contemporary works more understandable or give them more gravitas (we wish). The Met Breuer, if it shines, should begin that process in earnest.
Here's the list.
ARTIST                 OWNED      ON VIEW          MAJOR WORK?
Auerbach            2                 0                      N
Bacon                 2                  1                      ?
Cattelan              1                 0                      N
de Kooning        27                 3                     N
Doig                    2                 0                      N
Frankenthaler    46                2                       ?
Freud                 12                1                       Y
Hammons           1                 0                       N
Hirst                    3                 0                       N
Hockney            76                 2                      Y
Johns                81                 4                       Y
Kapoor                2                 0                      ?
Kiefer                 58                1                      Y
Koons                 0                   0                    N
Marden               5                  0                     N
Martin                 4                  0                      N
Nauman             8                   0                     N
Noland               0                   0                     N
Ofili                     1                   0                     N
Pistoletto            1                   0                     N
Polke                   6                   0                     N
Pollock            125                   2                     Y
Prince               11                    0                     ?
Reilly                  0                    0                    N
Richter               7                    0                    N
Rothko              17                    3                    Y
Ruscha             49                    0                    N
Ryman               3                     0                    N
Stingel                0                    0                     N
Warhol            109                   4                    N
Wool                  1                     1                    N
Photo credit: Courtesy of the Met
*I consult to a foundation that supports the Met.