For Sotheby's, the continuing sales of Alfred Taubman's estate have got to be a disappointment. The auctioneer may not even make back its $500 million-plus guarantee, based on sales of his Impressionist, Modern, contemporary and American art, let alone make a profit.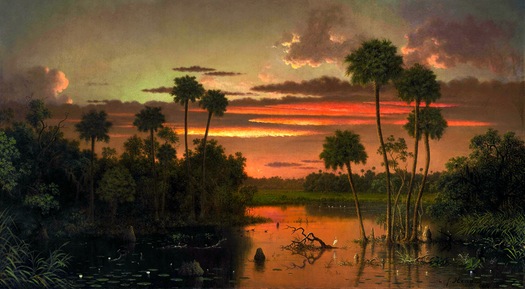 This week, his The Great Florida Sunset (at left) by Martin Johnson Heade sold for a record $5.85 million, including the buyer's premium, but that was far below the presale estimate of $7- to $10 million, without fees. Further, eight of his 31 American works were bought in and are now presumably owned by Sotheby's.
Nonetheless, there's a bit of sunshine in this news for the public. Heade's painting is headed for a museum! It's a little-known one in Winona, Minn. called the Minnesota Marine Art Museum. Founded and funded by Mary Burrichter and her husband, Bob Kierlin, the museum will display the piece, according to the Minneapolis Star Tribune, beginning next spring. The couple apparently retains ownership (at least for now).
Last year, the couple purchased a version of Emanuel Leutze's Washington Crossing the Delaware, similar to the one at the Metropolitan Museum.
A visit to the museum's website–its motto is "Great Art Flows Through Us"–shows an active program and a collection that runs from traditional, through Impressionist and Modern to contemporary marine paintings. I'd like to go.
Photo credit: Courtesy of Sotheby's