When the Byzantine Fresco Chapel at the Menil Collection in Houston opened in 1997, it displayed a group of 13th-century Greek Orthodox frescoes. But after restoration of the works, which the Menil had rescued from looters for the Church of Cyprus, the museum returned the frescoes to Cyprus as a donation when the agreed loan expired in 2012.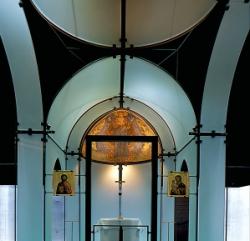 So what to do with that chapel (at right), which has now been deconsecrated? The Menil has commissioned a year-long installation from the team of Janet Cardiff and George Bures Miller. Cardiff's Forty Part Motet has been a hit wherever it is installed, but especially when in 2013 it was place in the Cloisters's 12th-century Spanish chapel, as the first work of contemporary art ever to be shown at the Met's medieval art branch.
So perhaps this was a natural. The duo, says the Menil release:
will fill the now-deconsecrated space with a sonic and visual experience inspired by ancient Greek philosopher Pythagoras's concept of "the music of the spheres." This theory that the movement of celestial bodies creates harmonies has recently been corroborated by scientists. Visitors will hear an audio collage including recordings collected by the NASA spacecraft Voyager when monitoring the interaction of solar winds and Earth's ionosphere. Because the ions vibrate within the range of frequencies audible to the human ear, it has been possible to convert their resonances into sounds, which will become part of the aural experience. Among the objects suspended in the mobile will be an array of mirrors and a small player piano.
The Chapel, meant as a sacred space, will from now on house these long-term, contemporary installations, the museum said. This one, I hope, will be more like Forty-Part Motet than like Cardiff's Murder of Crows.  We will see on Jan. 31, when it opens.