Get ready for another real estate deal museum, this one in Miami. Somewhere on Biscayne Boulevard, art collector Gary Nader plans to build a museum for Latin American art. It doesn't yet have a site, but it has a design by Mexican architect Fernando Romero, a collection (600 modern and contemporary pieces Nader owns), and an exhibition program:
The first year of programming will feature a retrospective of works by Fernando Botero and a Brazilian art exhibit, along with individual shows of works by Latin American masters Roberto Matta, Wifredo Lam, Frida Kahlo and her husband, Diego Rivera.
That's according to an article published about a week ago in the Miami Herald: Miami Art Collector Unveils Plans for Latin American Art Museum.
I wish Nader well, but wonder about a few assumptions. For example, the cost of the "90,000-square-foot museum, expected to open in early 2016," was given as "about $50 million." That seems somewhat optimistic to me, as does the timing. Nader is still assessing three sites. Getting all the paperwork and construction work done in a little over a year? Well, it wouldn't happen in a lot of big cities, that's for sure.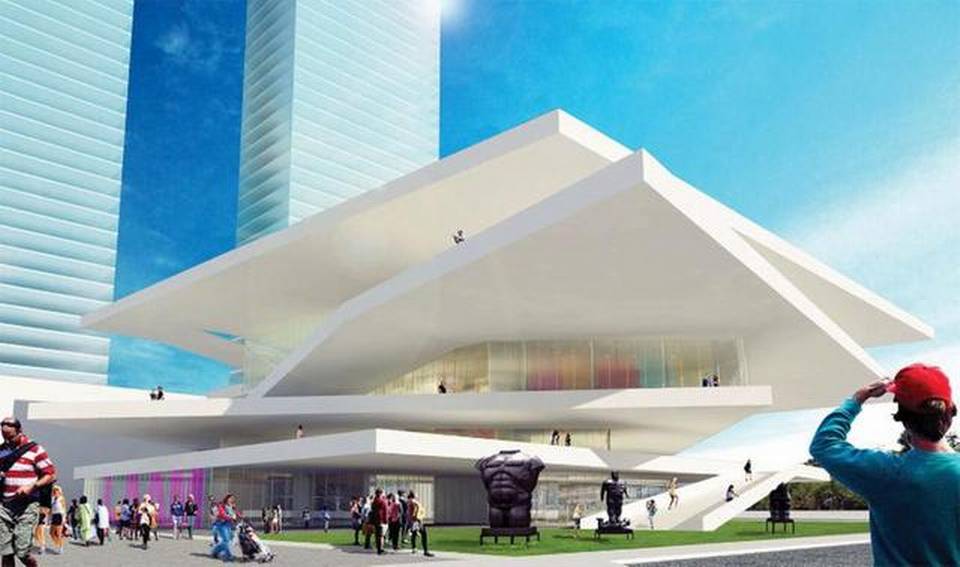 And btw, there's another complication: Nader told the Miami Herald he's still talking to three potential development partners. (He owns a gallery in Wynwood.)
Nader has taken the route that the Museum for African Art in New York, now called  The Africa Center, tried (among others): he plans to pair the museum with condominiums in a $300 residential tower. The units, perhaps 300 in all, will go for $2 million to $20 million. If they can subsidize the museum, great!
Fernando Romero is, as you'll recall, the son-in-law of multi-billionaire Carlos Slim, for whom he designed the Soumaya Museum–which when it opened in 2011 was set to be an anchor for a development intended to include offices, apartments and shops. I'm not sure what happened to that.
Romero, who apprenticed with Rem Koolhas, made an interesting exterior statement with the irregular, sloping, lopsided Soumaya. But it got mixed reviews as a museum. His idea for Nader's museum is at left.
If you are going to Art Basel Miami Beach this year, you can get a look:
During Art Basel and through January, Nader will display the rendering and a model of the museum at his gallery, 62 NE 27th St. Guests can also see a preview of some of the Latin American art in Nader's collection on the second floor of his gallery until the museum opens in 2016.
Please report back!
Photo Credit: Courtesy of Gary Nader via the Miami Herald