Hrag Vartanian, whom you may know as the editor-in-chief and co-founder of Hyperallergic, had a very interesting opinion piece published on Al Jazeera America the other day. The headline was Break up the major museums to save them, with a deck saying "August institutions should build more outposts rather than cloister themselves in big cities."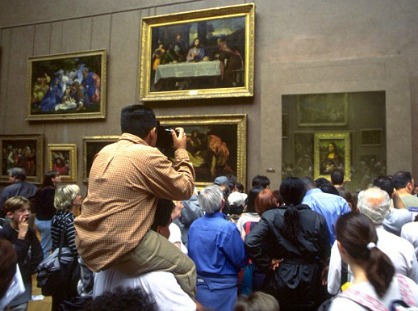 Quite a proposal. His thoughts seem to have been triggered by attendance at the Louvre (12 million a year by 2025), and the experiences of many museum-goers — who can barely get near the art because the galleries are so crowded. He recapped some of the complaints contained recently in a New York Times article,  Masterworks Vs. the Masses, which noted "soaring attendance has turned many museums into crowded, sauna-like spaces, forcing institutions to debate how to balance accessibility with art preservation."
Most of the comments agreed that conditions for real art-lovers are now horrible. Vartanian went beyond "us," though, to look at museum reviews on Trip Advisor, where he found that the "masses" tended to agree. Wrote one of the Vatican Museums: "Seriously, it would only take one person to trip or to cause some kind of mild panic or corridor rage … it doesn't bear thinking of." And another of the Louvre: "There was absolutely no way that myself and my family members could enjoy the museum. There are so many people that all you have time to do is make sure you aren't trampled by the mass coming at you from every direction."
Hence his proposal: "I'm suggesting not that museums sell off their collections but that more museums consider aggressively building outposts or prioritizing longer-term partnerships with smaller or newer institutions that could benefit from such relationships."
But that's like destroying the village to save it. I disagree, mostly, but not entirely:
Building outposts is not the answer for virtually all museums. I admit to a few possibly exceptions, perhaps cities that not only have little art but that have no viable museum building. But most do. We don't need more museum buildings, for the most part. As Vartanian himself wrote in another part of his commentary, "We need to fight the idea that museums must keep growing to stay relevant or survive." Amen to that.
Rather, I prefer the sharing model — but not necessarily in long-term partnerships. I believe that strong museums, like the Metropolitan and the Modern here in New York, the National Gallery of Art, the MFAs, etc., need to remain strong and universal, special places that both locals and tourists will go to and return to, again and again, because of what's dependably inside (not because of some event).
But they could easily share some more with museums that own less spectacular art. I know, art should not travel that much. But some art can — some works can be special visitors, perhaps "on tour" or in a single-picture exhibition; some can remain on extended loans (12 months?). Making these loans a special occasion — unless a museum truly has a spectacular collection in storage, which is doubtful, but which could be lent long-term — adds to their allure in attracting visitors.
Museums talk so much these days about "new audiences" and about "experience." Judging by the commentaries I read and the press releases and emails I receive, every museum in the country seems to be trying to attract more visitors and to create more experiences.
I wish, as this opinion piece indicates, they would focus more on the experience of the art their current visitors are getting. A lot of art-lovers are truly unhappy with it — and, just to ward off the criticism comments like that seem to provoke, there's nothing elite about being an art-lover. They can be — and are — anyone and everyone.
Photo Credit: Courtesy Daily Mail