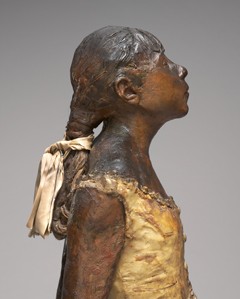 Here's another example of synergy with opera (which I last wrote about here on July 1): On October 5, the National Gallery of Art in Washington will launch a "focus exhibition" called Degas's Little Dancer, which will show off its version of the wax sculpture, set amid 11 other works by Degas, some from its collection, some borrowed.
Meanwhile, the Kennedy Center will unveil a musical by the name of Little Dancer, directed and choreographed by five-time Tony winner Susan Stroman and based on a book and lyrics by Lynn Ahrens with music by Stephen Flaherty. Their show, according to the Kennedy Center, can be summarized:
Part fact, part fiction, and set in the harsh backstage world of the Paris Opera Ballet, this world premiere Kennedy Center musical is inspired by the story of Marie van Goethem, a young ballerina who posed for Edgar Degas and became, inadvertently, the most famous dancer in the world. Torn by her family's poverty, her debt to the artist, and the lure of wealthy men, she struggles to keep her place in the corps de ballet–a girl on the verge of womanhood, caught between the conflicting demands of life and art.
It runs Oct. 25 through Nov. 30.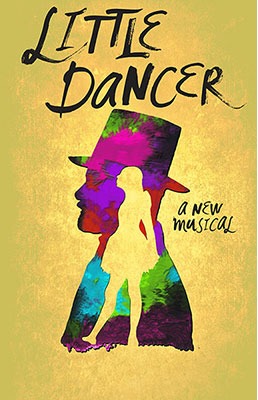 So the NGA smartly capitalized on the event. The exhibition will illustrate Degas's "fascination with the practice and performance of ballet." It will include Ballet Scene, a pastel from 1907, and a monotype from c. 1874 titled The Ballet Master.  The star painting will be The Dance Class (c. 1873) from the collection of the Corcoran Gallery of Art. There's more  — read it here.
The NGA is rather proud of its Dancer, which it notes is "the only one that was formed by the artist's own hands and the only one he ever showed publicly." Also:
The Gallery has the third largest collection of Degas works in the world, including 12 cast bronzes, one posthumously produced plaster, 19 paintings, 71 works on paper, and 52 original Degas works in wax, clay, and plaster.
The NGA also says it will highlight:
…the experimental, modern approach Degas took to his work. Degas did not carve sculpture but used an additive process. Little Dancer was modeled in wax over a metal armature, bulked with organic materials including wood, rope, and even old paintbrushes in the arms. It was then covered with clay and layers of pigmented wax. Degas further elevated the sculpture's realism by affixing a wig of human hair to the head and outfitting his ballerina in a cotton-and-silk tutu, a real bodice, and linen slippers.
Confession: the Dancer has never been a favorite of mine. I prefer Degas's racing scenes, though I appreciate the ballet ones. No matter: I'm in the minority, I think. I think this show will be popular, and the timing is perfect. It runs until Jan. 11.