Many people love going behind the scenes — and many art museums now offer some sort of occasion or event to do so. Next week, if you're in Washington, the Freer-Sackler will let us all in on the installation of Japanese artist Chiharu Shiota, who is representing her country at the Venice Biennale next year.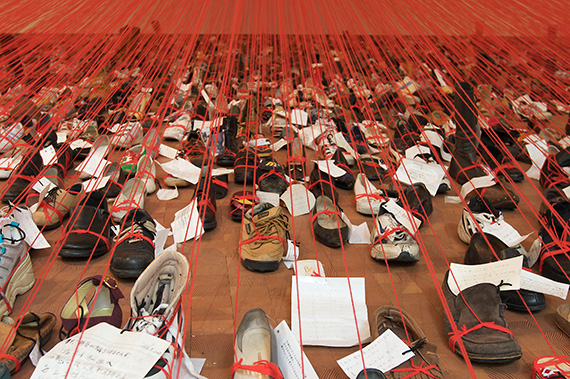 I was struck by the photos the Freer* sent me, and so decided to share them here, along with some of the information in the press release announcing the Aug. 18-21 installation.
For her installation, Shiota — based in Berlin — "will transform…almost 4 miles of red yarn, nearly 400 shoes and handwritten notes—into a dramatic and emotionally charged installation that embodies the artist's personal memories." She is apparently known for exploring "relationships between the human body, memory and loss" in installations that require a lot of space. At the Freer, her work — "Haunted by the traces that the human body leaves behind…amasses personal memories of lost individuals and past moments through an accumulation of discarded shoes and notes collected by the artist."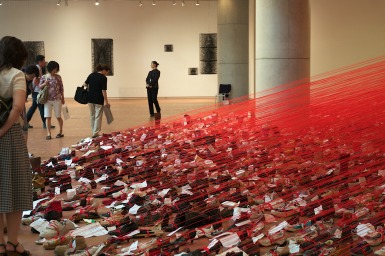 At least one bit of tension arises, though, because the work looks beautiful, at least until one gets close up.
At the public event in the Sackler galleries, curator Carol Huh will also be present, and "visitors are encouraged to submit questions for both the artist and curator through the museum's Twitter handle, @FreerSackler, using the hashtag #perspectives. Video and images of the installation process will be made available online at asia.si.edu/shiota."
This — and other events like it — strike me as a far better way to engage people, including younger generations, in art than many other initiatives I've seen. Of course, Shiota's work lends itself to such offerings.
Photo Credit: (previous installations of this work) courtesy of the Freer-Sackler 
*I consult to a foundation that supports the Freer Sackler