On Monday, the Nelson-Atkins Museum announced that its wonderful Grand Canyon painting by Thomas Moran, from 1912, would grace a Forever stamp as part of an homage to the Hudson River School of artists — it's one of four tributes.
What are the other three paintings? (I got no other press notices.) Were the other three museums, as the Post Office would choose only from works held in the public domain, mum on the honor? Guess so. But I looked it up.
As you can well imagine, the other three artists in this series are Thomas Cole, Asher B. Durand and Frederic Church. Who's got the best of their works? According to the Post Office:
For Cole, the choice was chose Distant View of Niagara Falls, from 1830, which is in the collection of  The Art Institute of Chicago.
For Durand, it was the Metropolitan Museum of Art's Summer Afternoon, from 1865.
For Church, the Post Office selected Sunset, from 1856, from the collection of the Munson-Williams-Proctor Arts Institute in Utica, NY.
Here's what they'll look like: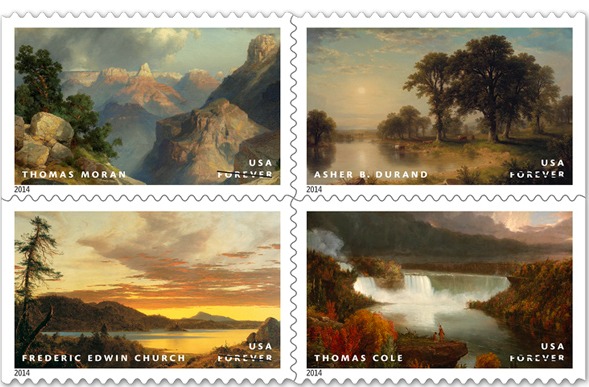 They all go on sale on Aug. 21, as part of the American Treasures series. You can order them here.
You can read much more about the Moran painting in the Nelson-Atkins press release.