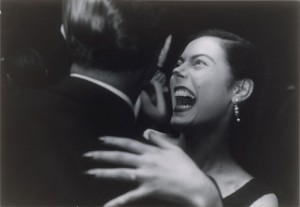 Remember the old Art Linkletter "House Party" TV show feature, "Kids Say the Darndest Things"? Linkletter would interview kids and they would provide answers that boggled the mind, either because they were funny or poignant.
I couldn't help think of it yesterday, after a visit to the Metropolitan Museum.* Among the exhibits I visited was Garry Winogrand, which consists of "more than 175 of the artist's iconic images, a trove of unseen prints, and even Winogrand's famed series of photographs made at the Metropolitan Museum in 1969 when the Museum celebrated its centennial." It's "a rigorous overview of Winogrand's complete working life and reveals for the first time the full sweep of his career," the museum says. 
On my way out, I stopped to look at the book where visitors leave comments. "Good exhibit," the last person wrote. Then I noticed that he or she had ranked the exhibit, on a scale of 1 to 10, and a 3.
My eyes went back to the comment line: "You should colorize them," it said.
Photo Credit: © The Estate of Garry Winogrand, Courtesy of the Fraenkel Gallery, San Francisco
* I consult to a foundation that supports the Met.