"There" is East Hampton, Long Island, and the speaker is Robert Motherwell. The period he's talking about is on view in an exhibition that opened on Saturday at the Guild Hall in East Hampton: Robert Motherwell: The East Hampton Years, 1944-1952.
While in East Hampton, Motherwell lived and worked in a house and studio designed by Pierre Chareau, the inimitable French architect. A show devoted to the paintings Motherwell made during those remarkable years has never been mounted. Focusing on two dozen important works from seventeen major museums and five private collections, Robert Motherwell: The East Hampton Years, 1944-1952 will surprise even those who think they know this pioneering American abstractionist's art well.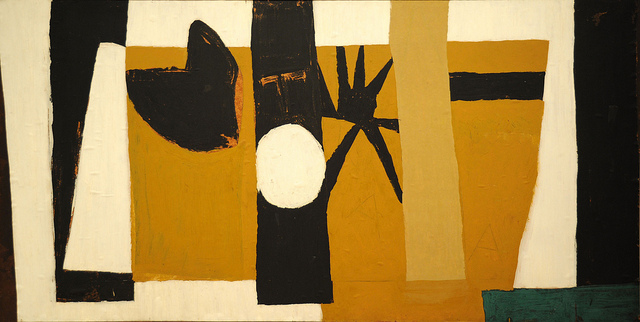 Full disclosure: the curator is a friend, Phyllis Tuchman. But even if she weren't, I'd say she has done a terrific job of borrowing works from those major museums, which include the Metropolitan Museum of Art, Museum of Modern Art, the Whitney, the St. Louis Art Museum, the High Museum of Art, the Jewish Museum, the Wadsworth Athenaeum, the Kemper (among others). Such loans are always hard to get unless a museum has chips (other pictures) to lend in return, and though the Guild Hall has a permanent collection, it's unlikely that those museums will find much to borrow from it.
Phyllis set out to "explore the contributions that Motherwell made to the Abstract Expressionist movement in the context of our East End artist's community," and the works on view (about 14 paintings) — In Beige with Sand (1945), The Red Skirt (1947), Barcelona (1950), Interior with Pink Nude (1951), to name a few — do the trick. Phyllis thinks the star of the show is MoMA's The Voyage (1949), and thinks The Red Skirt is a "real sleeper." It's a portrait of Motherwell's first wife, if I recall the label correctly. 
Which brings me to the labels. I wish I had taken a few photos of them — they're a model of informative information written in real English, as opposed to artspeak (example — up at the Guggenheim on Friday, a label in the Futurism show ends with the word "praxis." Why not "practice"?)
Two other informative elements: In the last gallery are 13 photosgraphs taken by Alistair Gordon of Motherwell's home and studio in East Hampton, demolished in 1985. We all love to see how artists work, and how they live.
Finally, the website has links to a video of him explaining his childhood attraction to abstraction, a 1977 interview with Motherwell at the New School, and his oral history interviews (1971-74) at the Archives of American Art. Anyone who wants to know Motherwell and his work can certainly start with this exhibition.