Judge rules that mergers can proceed, a headline about the Corcoran Gallery of Art cy pres case would say. But the decision, D.C. Superior Court Judge Robert Okun made, he said, was "painful."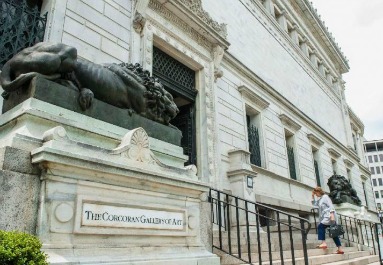 That's sort of how I have felt from the beginning: it's a bad situation and it's pretty hard to dream up a way to save the Corcoran as it was. The Corcoran's troubles and management/governance, or lack thereof, had simply got too bad, and the Corcoran was damaged goods. I never believed in the plan of Wayne Reynolds to save it; in the long run, I feared, he would have become a black knight, not a white one.
Okun's order "effectively dissolves the Corcoran as an independent entity," the Washington Business Journal quoted him as saying. He added:
This court would find it even more painful to deny the relief requested and allow the Corcoran to face its likely demise — the likely dissolution of the college, the closing of the gallery and the dispersal of the gallery's entire collection.
You can read his entire Corcoran Order at that hotlink. A few more excerpts, via WBJ:
The issue before the court is not whether the Corcoran could have been managed more efficiently over the past decade, but whether it currently is impracticable for the Trustees to carry out the existing deed of trust….

Undoubtedly, Mr. Corcoran would not be pleased by this turn of events. It seems likely, however, that he would be pleased to see that the college will be preserved through its partnership with the very university to which he donated both property and his company's archives … and that the gallery will be preserved through its partnership with one of the country's pre-eminent art institutions.
Though it is the most practical solution, the Corcoran's board and management still have a lot of proving to do. Their sometimes questionable behavior during this saga — including the reneging last week on a job this September for adjunct professor Jayme McLellan, a co-founder of the Save the Corcoran group that opposed this plan vocally and in court — will have to be rectified, with, I hope, some magnanimous gestures.
Meanwhile, Save the Corcoran's attorney was gracious in defeat. He said in a statement:
While this is not our vision for the Corcoran, we received a full and fair trial and are grateful that we were given the opportunity to defend the legacy of one of the oldest and most beloved museums in the nation," he said. "We wish GW and the National Gallery all the best as the new stewards of Mr. Corcoran's gifts.
Save the Corcoran will  not appeal. It's over. The Corcoran will now merge with the National Gallery of Art and George Washington University. Details are here, from the NGA.
Photo Credit: Courtesy of the Associated Press