We all know that it's hard for museums to get attention sometimes; there's so much competition for everyone's attention. The Art Institute of Chicago has mounted a major marketing campaign for Magritte: The Mystery of the Ordinary, 1926-1938 that's a bit unusual and may be working. It started back in June, but for whatever reason the AIC just sent out a press release.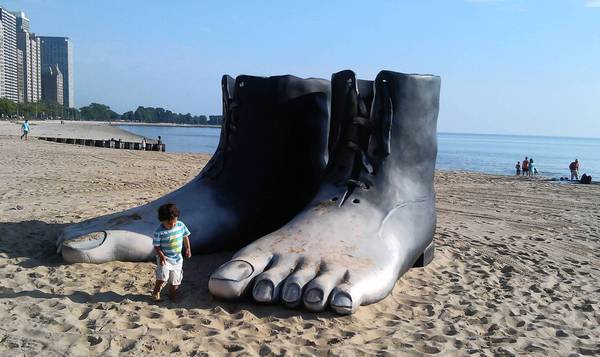 They call it "unthinking."
…Beginning in early June, billboards and train stations throughout the city began to invite passersby to "unthink" everyday words and ideas. …Downtown shop windows began filling with surreal tableaus populated by some of Magritte's favorite subjects: black bowler hats, open umbrellas, blue skies with white clouds, and word play. Threadless.com kicked off a contest to design the best Surrealist T-shirt. A dark figure, dressed in black and blue, began showing up at public events toting a mysterious eye balloon….

On the evening of Thursday, July 24, the line to enter the museum stretched for nearly a block as visitors showed up with "surreal" objects that they traded for free admission to the Magritte exhibition….

Then, on Friday, July 25, something even stranger happened. Two massive feet, right out of Magritte's painting The Red Model, appeared on the sands of Oak Street Beach alongside a sign urging viewers to "Unthink Long Walks."
The feet were snatched from the artist's painting The Red Model.  You may want to check out other "Feet facts" at the press release link above (E.g., each weighs 800 pounds).
Other than the nearly 500 people who lined up and entered the museum free on July 24, the Art Institute makes no claims that this campaign is bringing visitors. But it does seem to be getting some attention. Here are a couple of links: in the Chicago Tribune and on Chicagoist.
There's more to come, the release notes. And over at Little Black Book Online, there's more information, too:
The campaign communicates that Magritte's work does more than make us rethink. It makes patrons believe Magritte, through his work, through his unique view of the world, wants them to Unthink. "Unthink Magritte" will appear in newspaper, print, web, events, and an "Unthink" mobile app. It will also appear prominently in out-of-home including bus shelters, spectaculars and ambient.

Patrons of the Art Institute of Chicago can create and share their own audio, text and photographic interpretations or "Uninterpretations" of the Magritte exhibition or the world around them as inspired by Magritte's work, using the Unthink Magritte mobile app also created by Leo Burnett Interactive.
That was posted by Leo Burnett Chicago, which created the campaign pro bono, lucky for AIC.
I love it — it's fun and it's about the art.
Photo Credit: Antonio Perez, Courtesy of  the Chicago Tribune