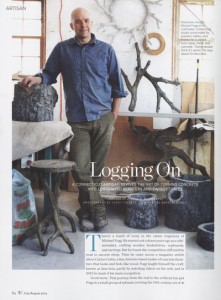 Or, the more elegant term, faux bois? Faux bois furniture and furnishings are made of concrete to look like real wood. It's a 19th century art that is, in some circles, making a bit of a comeback. False, it seems, lasts longer than the real, which is prone to decay. It works especially well in garden fixtures.
Michael Fogg, a Connecticut practitioner of the art, is updating faux bois — making bonsai tables and chandeliers with slender branches as well as planters and garden furniture.
I'm just telling you this because I wrote about the art and the artisan in the current, July-August, issue of Traditional Home.  It's a rare trade (though there is mass-produced stuff that looks like faux bois). And it' s not easy to find. As I wrote:
Patsy Pittman Light, author of Capturing Nature: The Cement Sculpture of Dionicio Rodriguez, figures that there are perhaps a dozen professionals, at most, handcrafting faux bois objects in the United States.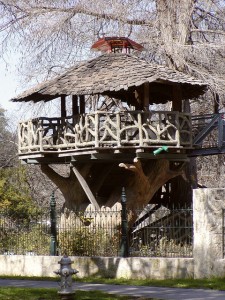 The artisan, like a painter with paints, makes his (or her) own concrete, using a unique formula.
 "The less water, the stronger the mix is, but the harder it is to work with," [Fogg] explains. "I like it to be like cream cheese, but pie dough is what you get if you don't add enough water." 
A couple of museums have faux bois — for example, in the Huntington Library and Museum's Japanese Garden in San Marino, California, you'll find faux bois trellises and pergolas, and at the Witte Museum in San Antonio, you'll find a treehouse by artist Carlos Cortés. San Antonio is a hotspot for faux bois. The things you learn reporting…