Maybe it got little notice nationally because it's still just a paper plan, but it looks as if Los Angeles will get another contemporary art museum. It's called the Old Bank District Museum and it's the brainchild of a real estate developer named Tom Gilmore. He has hired architect Tom Wiscombe, and they are planning "an epic, locally minded art institution within the stalwart structures shouldering Main and Fourth Streets." That's in LA's "historic core district."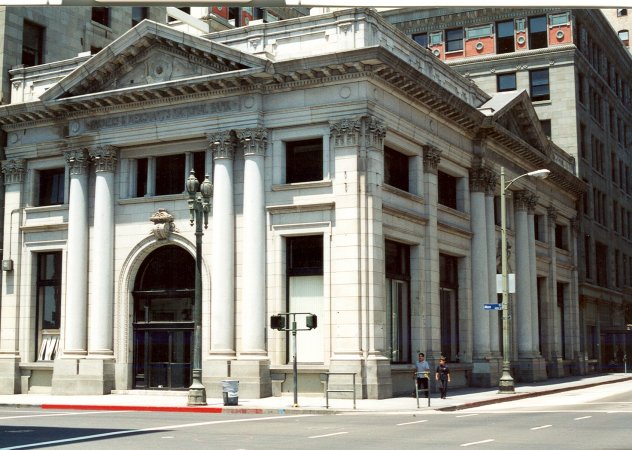 The buildings involved are the Hellman, Farmers and Merchants Bank Building (at right), and the Old Bank Garage, according to LA Curbed, and the museum will "occupy basements, rooftops, and mezzanines" of the three structures. It also said:
An early guesstimate at the museum's cost runs between $25 and 35 million. Gilmore and [Jerri] Perrone are providing the seed money, then seeking benefactors, and likely creating a nonprofit to run and fund the museum….

"It will be a repository for prominent Downtown artists of the last 40 years," says Gilmore. Among others, they're interested in Robert Reynolds and Tod Lychkoff, two artists who operate out of the Historic Core.
If I have my geography correct, this is not near the downtown area where the Broad Art Museum is set to open, on a much wider, more international scale, next year. And that's good — spread art around — though it makes success more difficult. Without a nearby critical mass, the Old Bank District Museum would have to succeed on its own. It's also good that this museums says it has a different mission than the Broad or MOCA-LA — local artists. If it ever really gets off the ground, that will be a plus.
Photo Credit: Courtesy of the Los Angeles Conservancy