This Wednesday, John Wilson, Executive Director of the Timken Museum of Art in San Diego, is set to give a gallery talk titled "Brave New World: from Icons to the Future." As I write this, that's what the museum website says.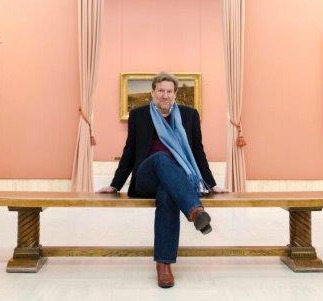 It may be a broken link by the time you read this post, though, because Wilson (pictured at right) quit or was pushed out last week, just before the holiday. His name has been removed from the Board/Staff page of the site, though his replacement's name isn't yet there. That would be, according to various reports, David Bull, the well-known conservator and expert on Old Master paintings. Bull is founder and president of the Fine Art Conservation & Restoration in New York and paintings conservator at the National Gallery of Art.
Bull, who is 80, has been named "visiting director," which is new title to me. Wilson is 58. I'm not an ageist, but something is going on there.
The Timken is a small museum known for it collections of European old master paintings, American paintings, and Russian icons. Wilson has been director for six years, and was, according to the Times of San Diego, "the first professional art historian with extensive museum experience to hold the position." 
Both sides have remained circumspect, but it looks to me as if the board disagreed with Wilson's strategy for the museum. According to the San Diego Union-Tribune,
Wilson said he was hired to bring change to the museum. During his tenure, he brought in innovative exhibits that provided context for the Timken's Old Masters collection, among them a cutting-edge Robert Wilson video portrait exhibit and the current installation "El Lissitzky: Futurist Portfolios."

In the past year, attendance for the museum, which is the only free museum in Balboa Park, reached a record 200,000 visitors and fundraising also increased substantially. Among Wilson's goals was to make the Timken a partner and a player in San Diego's cultural community, and the museum, in collaboration with the San Diego Museum of Art and the Museum of Contemporary Art Diego, was instrumental in the first ever cooperative effort between the three museums, "Behold America!"
But the U-T quotes Wilson saying: "The board had a model of the Timken that is similar to when John Petersen was here. So it's time for a change." And what was that?  The paper says that Peterson was the grandson of Walter Ames, the Timken's founder, and the son of Ames' daughter, Nancy Petersen, who was the museum's first formal director. John Petersen ascended to director in 1996 but died in 2006. Wilson succeeded him. 
And the U-T notes: "Replacing a director, who is a first rate curator, with a visiting director, who is a first-rate conservator, speaks to the museum's current priorities."
The Times wrote:
…Paige Nordeen, a museum spokeswoman, [said:] "David will be guiding the institution through San Diego's 2015 centennial celebrations in Balboa Park and coincides with the museum's 50th anniversary celebration, and he will be leading several planning sessions over the next month."
She also used the code word that Wilson was leaving "to pursue other opportunities," even as the U-T has Wilson saying  "he had no immediate plans, and at least for now, is looking forward to working on some research projects, and will likely stay in San Diego."
Photo Credit: Courtesy of the Timken