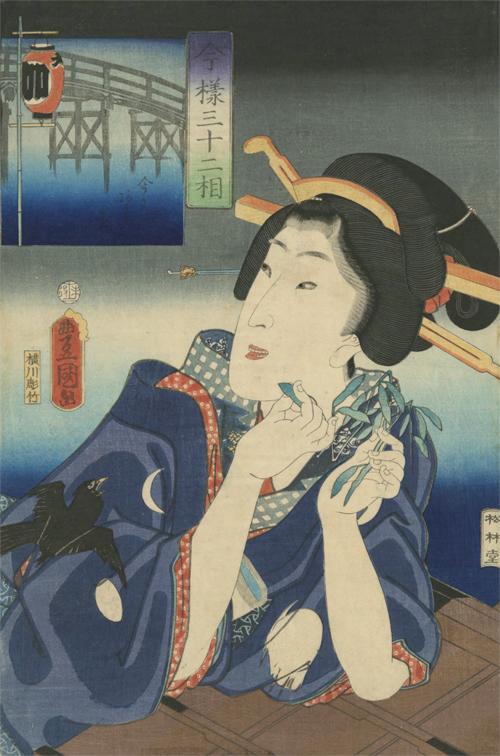 If you are up near Cooperstown, N.Y. this summer, you may want to stop in at the Fenimore Art Museum, not just for its fine collections of American art, or its current special show, Winslow Homer: The Nature and Rhythm of Life, from the Arkell Museum at Canajoharie — both worth a visit.
The exhibition offers prints from the time of Madame Butterfly intended to represent "traditional" Japan and some showing the influence of Western culture. There is likely to be crossover. I would hope.
I asked the museum about this, and the written response I received from the PR department credited Paul D'Ambrosio, the museum's President. "He felt that rural art museums were facing distinct challenges when it came to building audiences for exhibitions. Several years ago, the challenges were worsening for the Fenimore Art Museum and attendance was eroding, so he needed to come up with a new strategy…"
In 2011, when The Glimmerglass Festival hired their new Artistic Director Francesca Zambello, the two cultural institutions decided to collaborate to building excitement/awareness about their seasons. Glimmerglass' season included an opera inspired by the paintings of Edward Hopper entitled "Later the Same Evening," so Fenimore went to work on a Hopper exhibit that offered opera-goers insight into the artist's formative years in paintings, drawings and etchings. They partnered on discount coupons distributed at their respective box offices and the response was beyond their expectations – the Hopper exhibit drew a bigger audience than their major show on Sargent by 10%.
Since then, the Fenimore and Glimmerglass have worked closely together. In 2012, the exhibitions staff worked with Glimmerglass and the Metropolitan Opera to present two exhibits highlighting the Met's collection of costumes and props from the historic productions of Aida and Armide, which were being performed at Glimmerglass. In 2013, they collaborated by showing an exhibit on Hudson River School painters, which coincided with Glimmerglass' production of "The Flying Dutchman" – that resulted in a big 20% increase in attendance! We hope that the partnership promises even greater results this year.
So it has worked. Appropriately, the Fenimore notes that its exhibit  was "Inspired by Glimmerglass Festival's 2014 production of Madame Butterfly." But I don't see a similar mention on the Glimmerglass website. It should be there.
Btw, you have time to see these exhibits: Homer runs through Aug. 24 and Japanese prints closes on Sept. 21.
Photo Credit: Courtesy of the Fenimore