Billionaire Richard Mellon Scaife, scion of two wealthy families, died on July 4, leaving a large art collection — apparently — to two small Pennsylvania Museums. Scaife's attorney called the art collection "expansive." And according to the Pittsburgh Tribune-Review — which Scaife owned:
The Westmoreland Museum of American Art in Greensburg and Brandywine Conservancy near Philadelphia will split Scaife's art collection, according to the will. The will allows the organizations to decide how to divide the collection and sets up a rotating selection system to resolve disagreements.
The only direction Scaife gave, apparently, was that his works by John Kane, the American self-taught artist (whom I came to like earlier this year, when I visited the Milwaukee Art Museum to review Uncommon Folk: Traditions in American Folk Art), would go to the Westmoreland museum. There are at least eight Kanes in the Scaife trove.
Born in Scotland, Kane was a laborer who turned to art after losing a leg. His Bust of a Highlander (Bust of a Scot), c. 1925 and shown here, intrigued me: it's bold, direct, charming.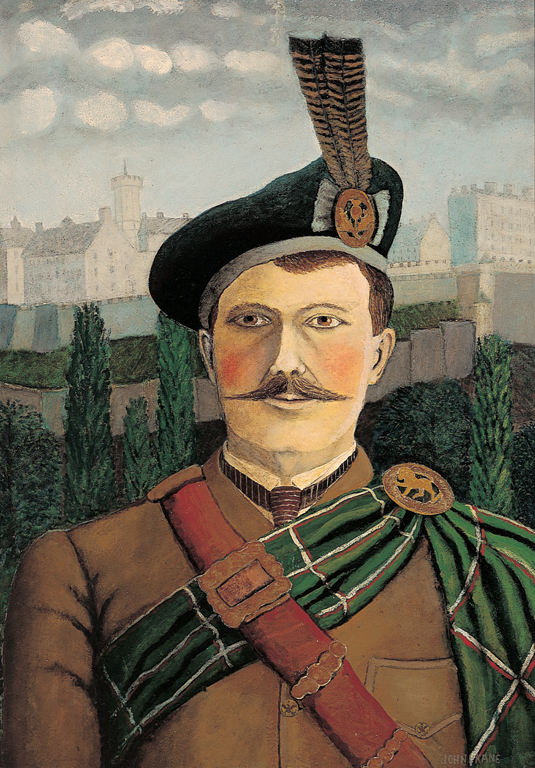 The Met has one of his paintings, The Monongahela River Valley, Pennsylvania, and the Whitney owns two — though I could not find out what they were by searching the collection online.
Those going to the Westmoreland Museum of American Art include  Along the Lincoln Highway and Boulevard of the Allies, which "depict Pittsburgh during the industrial boom of the early 1900s." I couldn't find them online either.
Other than the Kanes, we don't know what is in the collection. According to the Philadelphia Inquirer:
…lawyer H. Yale Gutnick, one of Scaife's executors and a longtime friend and colleague, said he could not estimate the value of the collection or even characterize the paintings and artists.

On Monday, Gutnick said the paintings were largely by American artists. He called it a "very, very substantial collection" put together "over many, many years."

He declined to define it further. "There's so much, I can't describe it all," he said. "It would take me three days to go through it."
Scaife also left $15 million outright to the Brandywine Conservancy (and museum) in Chadds Ford, Pa., intended for the "maintenance and management of a conservancy" that he "built on the grounds of his childhood home," said the Tribune-Review. 
Scaife was a conservative who donated to many conservative and libertarian causes over the years, and also gave money to historic preservation, environmental protection, educational institutions and the arts. I look forward to finding out what art he left us.
Photo Credit: Courtesy of the Milwaukee Art Museum