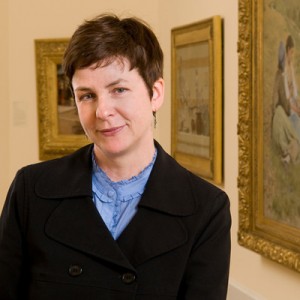 The Metropolitan Museum of Art* just announced the appointment of  Sylvia L. Yount as head of the American Wing. Yount is currently Chief Curator and head of the American Art department at the Virginia Museum of Fine Arts, which just last week lost Deputy Director for Art & Education Robin Nicholson. He's taking over the Frick Art & Historical Center in Pittsburgh.
This is obviously not good news for the VMFA, or its director Alex Nyerges — whose name itself has been bruited for a couple of the open directorships around the country. He is generally perceived to have done a good job there.
Yount succeeds Morrison H. Heckscher, who'll retire at the end of this month.
Yount's bio includes stints as curator of American Art and department head at the High Museum in Atlanta, and curator of collections and chief curator at the Pennsylvania Academy of the Fine Arts. She has organized "landmark exhibitions on American modernism, Maxfield Parrish, and Cecilia Beaux" and "has strengthened and diversified VMFA's American holdings through purchases and gifts. She has also presented exhibitions of work by the Anglo-American printmaker Clare Leighton and the celebrated African American modernist Jacob Lawrence. Currently, she is organizing a reappraisal of the Colonial Revival phenomenon, Making America: Myth, Memory, Identity."
The Met's director Tom Campbell also announced several promotions yesterday:
* Carrie Rebora Barratt as Deputy Director for Collections and Administration;
* Christine Coulson as Chief Advisor to the Director;
* Luke Syson as Iris and B. Gerald Cantor Chairman of the Department of European Sculpture and Decorative Arts;
* Lisa Pilosi as Sherman Fairchild Conservator in Charge of the Department of Objects Conservation; and
* Jeffrey S. Spar as Vice President for Technology and Chief Technology Officer.
Photo Credit: Courtesy of the VMFA