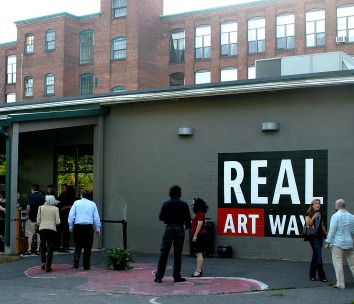 Artspace — which makes its money selling art online — provided a provocative list a few weeks ago: Ten Alternative Art Spaces That Transformed American Art. The writer, Ian Wallace, and maybe others there (I don't know how Artspace works, editorially) specifically tried to consider the national picture, not just NYC, which is good. Just four of the spaces are in New York — and you might guess their names: The Kitchen, Artists Space, Franklin Furnace and — Food, which I didn't know. Then again, I wasn't living in New York the years that Food existed, 1971-73. It was a "conceptual restaurant-as-exhibition space" co-founded by Carol Goodden and Gordon Matta-Clark. 
Three others on the list have also died: Project Ink, Cambridge, 1972-75; The Women's Building, Los Angeles, 1973-91; And/Or Gallery, Seattle, 1974-84.
But that means six of the ten have survived, despite the changes in the art world, in financing, etc. They are:
Real Art Ways, Hartford, 1975-present.
The Mattress Factory, Pittsburgh, 1977-present.
Vox Populi, Philadelphia, 1988-present.
As you read the capsule histories of these spaces, it's hard not to notice a couple of things — most glaringly, that the founders include more women than men. Perhaps that's because women felt locked out of the regular art world.