They're excited in San Antonio about a new video installation in their town called The Saga by a French artist named Xavier de Richemont. (How do I know? The Visit San Antonio website calls it a "world class video art installation.")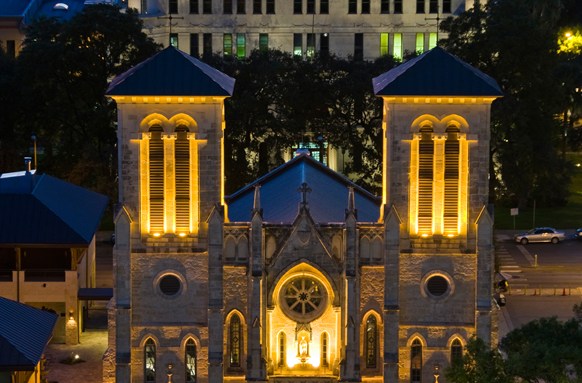 I thought I'd write briefly about it here because the piece is cast onto the facade of the 18th century San Fernando Cathedral, which is the seat of the archdiocese of San Antonio and a working church.
The Saga has nothing to do with religion, though — it's about the city's history, "the historical discovery, settlement and development of San Antonio." We've seen lots of productions like this, but I don't recall any on cathedrals. Here, at least. Richemont has done many installations in Europe and there may have been some there. He calls him work "a moving canvas, a moving painting."
I've seen two excerpts of The Saga: one here, courtesy of Time Warner Cable in Austin and one here, courtesy of the San Antonio Convention and Visitors Bureau. It looks very entertaining, and it likely to be both a tourist attraction and a hometown hit.
I was also curious about the church's approval — the video projects oil derricks, the Alamo, flags, stars, music-makers, and many other things onto the facade. And according to the release (San Antonio – The Saga), Archbishop Gustavo Garcia-Siller said, "We are very enthusiastic about our involvement in this project with the Main Plaza Conservancy. We gladly bless this effort and give our overwhelming support to San Antonio|The Saga video art installation." Nice.
The piece made its debut last Friday evening and will continue on weekends and Tuesdays through December.