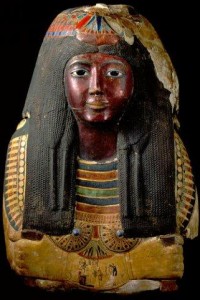 Some cases never go away. Two years ago, The Saint Louis Art Museum won a court battle in its case to keep the 3,200-year-old mummy mask of Ka-Nefer-Nefer, when a federal court judge ruled that it should remain in its collection — a ruling that "chastises the U.S. attorney's office for trying to seize the ancient relic through civil forfeiture proceedings." The quote is from the St. Louis Post-Dispatch.
U.S. District Court judge Henry Autrey
…said the government did not provide any proof that the mummy mask was "stolen, smuggled or clandestinely imported or introduced" as required under the forfeiture law – only that it went missing….

…[But] The museum's research showed the mask was part of the Kaloterna private collection during the 1960s, before it was purchased in Switzerland by a Croatian collector, Zuzi Jelinek, who then sold the mask to Phoenix Ancient Art in 1995."
Now, however, the Egyptian government has issued a statement saying (in part):
Minister of Antiquities Mohamed Ibrahim said that he will resort to the private sector in the United States to practice pressures on St. Louis Art Museum according to the agreements signed in this regard. He stressed that Egypt will not abandon its right to "Ka-nefer-nefer" mask.
Hat tip to the Riverfront Times, St. Louis's alternative weekly paper, which reported the development on a blog last Friday, and brought us up to date on developments since 2012:
…When the government tried to appeal in January 2014, however, it apparently missed a filing deadline, causing Judge James Loken to remark the government now had to "beg for a do-over."

Last week, the Eighth Circuit Court of Appeals declined to grant the government that do-over. Loken, who wrote the judgement, chastised the government lawyers who "knew many months prior to the order of dismissal of the possible need to amend its pleading."
One judge, Diana Murphy, agreed with the ruling but nevertheless showed some sympathy with the other side, saying"
I concur in the court's opinion but write separately to express my concern about what the record in this case reveals about the illicit trade in antiquities…The substantive issues underlying this litigation are of great significance, and not only to museums which responsibly seek to build their collections. The theft of cultural patrimony and its trade on the black market for stolen antiquities present concerns of international import. These issues affect governments and the international art and antiquities markets, as well as those who seek to safeguard global cultural heritage.
Egypt's statement is dated today, not Friday, but then again it may have  been updated.
UPDATE: The Art Law Report has an excellent analysis and a crack at what may happen next here.
Photo Credit: Courtesy of SLAM