I don't envy Kevyn Orr, Detroit's emergency manager, that's for sure. Tough as his job is, he also has to contend with the nastiness surrounding the city's bankruptcy — which always happens, as in any bankruptcy, someone has to lose out.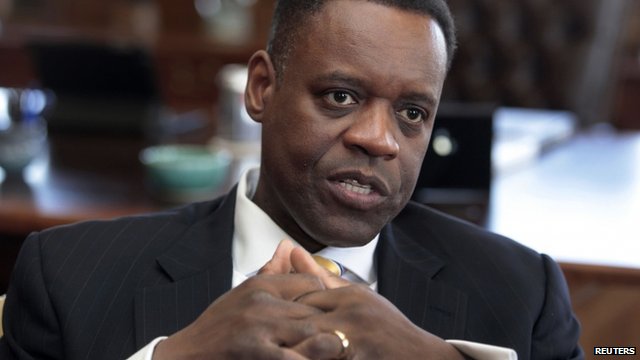 This past weekend, Orr (at right) made a speech on Mackinac Island in which he blasted the "misinformation" campaign being waged by financial creditors (among other things), according to The Detroit News. Good for him.
The News said:
At an event showcasing bankrupt Detroit's comeback, Emergency Manager Kevyn Orr issued a dire warning to state business and political leaders Friday about the tenuous nature of a deal engineered to limit reductions in benefits for 32,000 pensioners.

The usually confident Washington, D.C. bankruptcy attorney voiced concerns that a deal to prop up city pensions with state and private funds could unravel if retirees and existing workers reject the settlement or the state Senate refuses to contribute taxpayer resources.

Orr said he's worried about a creditor vote underway that's already been hampered by inaccurate ballots, a "misinformation" campaign being waged by financial creditors and a looming summer trial over his plan to slash Detroit's $18 billion in debts in half.
Orr warned that a vote today (Tuesday) in the state senate authorizing $195 million is crucial:
"Without the money, without the vote, we're done," Orr said. "We go back to the drawing board."
Specifically about the city's "very ticked off" bond insurers he said they were waging a "very concerted and focused campaign to undermine the proposal we have on the table."
Facing hundreds of millions in potential losses, bond insurance giants Syncora Guarantee Inc. and Financial Guaranty Insurance Company have been pushing for a sale of city-owned art at the Detroit Institute of Arts, which Orr has resisted.

"I just learned yesterday that they're sending packages to the financial press in New York, not just criticizing the proposal we have out, but providing misinformation about how unfair it is … and that if we sell the art it could result in a greater recovery for all creditors," Orr said.
The insurers are being short-sighted. Detroit needs to revive after the grand bargain; a stripped down Detroit Institute of Arts won't help the city do that.
Photo Credit: Courtesy of the BBC