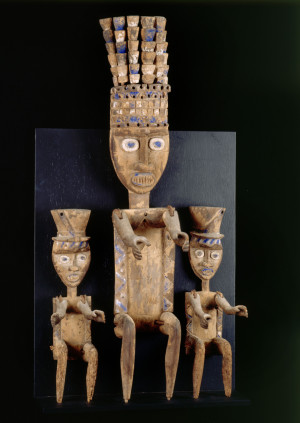 The Museum of Fine Arts says it is voluntarily sending eight objects from its African department — dating to the 18th century — to the National Commission of Museums and Monuments in Nigeria. The pieces were donated to the museum and purchased in "good faith" in the 1990s from dealers in both the U.S. and Europe. One piece, a bronze altar figure dated about 1914, was actually stolen from the Royal Palace in Benin City in 1976.
The purchaser was the late William E. Teel. Teel donated "more than 300 African and Oceanic works, along with several Ancient American and Native American pieces and a small group of European and American works on pape — many of which are now on view. From that group, these eight were problematic.
MFA explained the situation thusly:
The Museum began the process of researching the provenance (or history of ownership) of the objects after receiving notification of the bequest. Recognizing that these eight objects were probably illegally removed from Nigeria in recent years, and that their export would have been regulated by Nigeria's National Commission for Museums and Monuments Act (chapter 242) of 1990, the MFA contacted the NCMM to seek its authorization before proceeding with their acquisition. The NCMM swiftly responded that the export of these objects had not been approved; and, indeed, that several documents which purportedly authorized their sale and export were forged. Upon receipt of this information, the MFA began to arrange for the return of the objects to Nigeria, which were received by Nigerian authorities earlier this month.
Sub-Sahara Africa hasn't gotten as much publicity for its looted goods in recent years, but it has perhaps an even bigger problem than Italy in that often the thefts are from museums or institutions, not the ground. On the other hand, that makes them easier to trace. The museum listed the eight pieces transferred to Nigeria as:
Memorial screen (duen fubara) [above left]
African, Ijaw Kalabari peoples, Nigeria, late 19th century
Head
African, Nok peoples, Nigeria, About 500 B.C.–A.D. 200
Head of an Oba
Edo peoples, Benin Kingdom, Nigeria, 19th century
Male Figure
African, Nok peoples. Nigeria, About 500 B.C.–A.D. 200
Portrait head
African, Yoruba peoples, Ife Kingdom, Nigeria, 12th–14th century
Oron Ancestral Figure (Ekpu)
Oron peoples, southeastern Nigeria
Altar figure [at right]
Benin peoples, Nigeria
The Teels endowed a curatorial position for these objects (a gold star to them) and also provided access to their papers, according to the Boston Globe. That obviously speeded the MFA's provenance investigation. The Globe has many more details and its article is worth a read. 
Photo Credits: Courtesy of the MFA