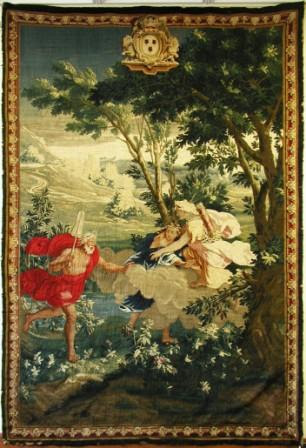 This one was voluntary. Recently (but we don't know how recently), the University of Sheffield discovered that a  Louis XIV tapestry, which it had owned for 50 years, had been looted from the Château de Versainville, in Normandy, during the Nazi occupation of France.
According to a press release:
The tapestry, which is dated to around 1720 and shows a scene from Ovid's Metamorphoses, had been in the possession of the University since its purchase on the open market in London in 1959.

The University recently contacted the Chateau whereupon it was discovered that the tapestry had been looted from the Château by Nazi soldiers during the Second World War, at a time when Comte Bernard de la Rochefoucauld, and his wife were both imprisoned in concentration camps. Comte Bernard de la Rochefoucauld had been an active member of the French Resistance prior to his arrest in Paris in 1943. The Comte sadly died on 4 June 1944 as a result of his treatment at the Flossenburg concentration camp, though his wife survived the war.
Working through the Art Loss Register, Sheffield University is donating the piece to the Chateau, which has been undergoing a renovation "as Comte Jacques de la Rochefoucauld, the descendant of Comte Bernard's brother, seeks to restore it to its former glory, and return the Château to its place in the cultural heritage of its region."
More details are here. I wish I knew a bit more, and wish Sheffield had chosen to tell us where it bought the tapestry and how it came to make this discovery now. Two other, similar tapestries are apparently still missing from the Chateaux — maybe there are hints that would aid recovery.
Photo Credit: Courtesy of the Art Loss Register