We've certainly had exhibitions focusing on beauty in contemporary art before, but not one (that I know of) subtitled anything like A Baroque Sensibility in Recent Painting. I thought it was an interesting premise, worth looking at.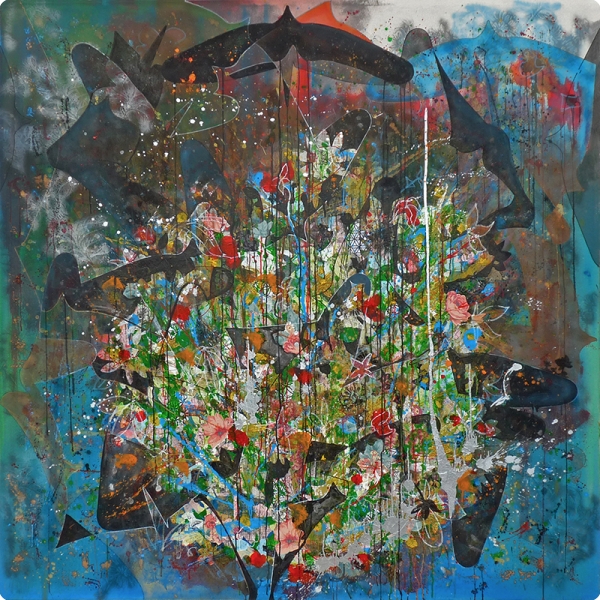 The exhibition, at and organized by the McNay Art Museum in San Antonio, opened on June 11. Beauty Reigns was curated by René Paul Barilleaux, the museum's chief curator and curator of art after 1945. He chose thirteen "emerging and mid-career abstract painters whose art is characterized in whole or part by high-key color, obsessive layering of surface imagery, use of overall and repeated patterns, stylized motifs, fragments of representation, and a tension between melancholy and the sublime."
The 13 are Jose Alvarez D.O.P.A; Kamrooz Aram; Charles Burwell; Annette Davidek; Fausto Fernandez; Nancy Lorenz; Ryan McGinness; Beatriz Milhazes; Jiha Moon; Paul Henry Ramirez; Rex Ray; Rosalyn Schwartz; and Susan Chrysler White. Some I've heard of, some not.
Barilleaux says their work exudes "exoticism, exuberance, and optimism."  That's  nice for a change. I didn't see much of that at the Whitney biennial, and although one can find beautiful works at many of the best and most respected art fairs, people don't talk much about it. At least not in those terms. "Beauty" is a put-down to some.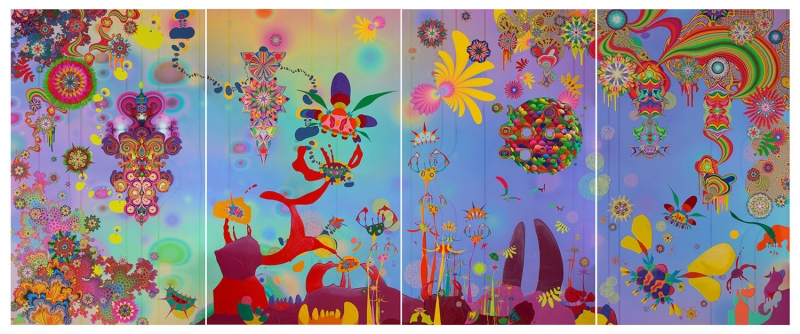 It's hard to judge an exhibit from afar; you really have to see works in person. But I can't get to the McNay, so I did look at the works on the web and in the catalogue.
From that, I think the exhibit, which runs until Aug. 17, provides some luscious works of art. I've posted two here, Love is What You Make it Out to Be, a collage by Fernandez, above right, and We Came from the Stars, a mixed-media assemblage that the McNay has acquired, above left.
As I've alluded, Beauty Reigns confronts a problem with contemporary art. Whereas some people flock to it, in love with the new, almost instinctively and unquestionably sure about its merits, another group — which I would guess is considerably larger — has trouble dealing with most contemporary art. Much is not lovely to look at, while also being difficult to understand, to draw any meaning from. The "my kid can do that" response applies to much abstract art. Both groups tend to disdain each other.
But Barilleaux, quoted in the San Antonio Current, explains himself and his goal here:  
I wanted people to experience art that was optimistic and uplifting. This is baroque art with a small 'b,' so it's not imitating work of the Baroque period in the 17th and early 18th centuries, but it is theatrical and beautiful, maybe even over-the-top and a little obsessive. This is an exhibit designed to give viewers visual pleasure, though all of these artists have different ideas about what beauty is."
Later, in the same piece, Dan R. Goddard, a former art critic for the San Antonio Express-News (whose own critical response to the exhibit is behind a paywall, alas), writes:
Barilleaux acknowledges that those who buy into the idea that anything beautiful can't be serious may be tempted to dismiss many of the works in "Beauty Reigns" as wallpaper. However, he adds, "that may just show how limited we are by what we think wallpaper should be." 
Goddard's article contains much more background about some artists in the show, including some interviews. Read it here.
Photo Credits: Courtesy of the McNay Art Museum