In today's Wall Street Journal, I review an exhibition at the Yale Center for British Art entitled Of Green Leaf, Bird, and Flower: Artists' Books and the Natural World. I pitched it because I think the whole category of artists' books is too little known. But as it turned out, the exhibit isn't strictly a show of artists' books. It includes, as I write, "prints, drawings, collages, specimen books, field notes, cut-paper objects, photographs, video, sound and multimedia pieces as well as books—plus some 18th- and 19th-century microscopes" too. Some 300 of them, all told.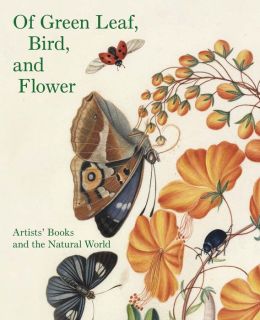 They all, as the press release announced, look at ways "self-taught naturalists and artists recorded and observed the natural world around them from the sixteenth century to the present, examining the intersections of artistic and scientific interest."
Here is my key conclusion:
"Of Green Leaf, Bird, and Flower" is instead an exuberant exploration of nature seen through the eyes of artists. A 1958 London Transport poster in the first gallery, portraying a boy, a girl and their dogs at the start of a country walk, embodies the show's spirit: Casually dressed, they take the wide path through a forest to a blue-sky adventure. This is going to be fun.

And so it is, particularly in its first two-thirds.
After that, alas, the exhibition peters out a little, coming to something of an anticlimax. But it's well worth viewing.
A couple of other tidbits:
The first half of the show's title was taken from a poem published in a 1846 book called Twenty Lessons on British Mosses; Or First Steps to a Knowledge of that Beautiful Tribe of Plants, one of the best titles I've ever been amused by and so wonderfully British.
The catalogue was "designed to evoke an early naturalist's field guide." and it's a charmer.
You can see more images here, including a Beetles Book, a Crow's landscape and much more.