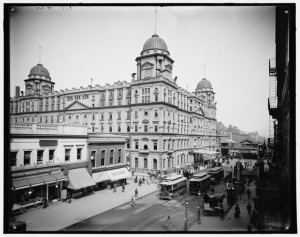 It turns out that several New York City buildings, including some quite distinguished ones, had lives nearly as short as, and sometimes even shorter, than Billie Tsien and Tod Williams's edifice on West 53rd Street in Manhattan. I walked past the site this weekend, now enclosed with a fence that blocks views of the dismantling, when I visited the Museum of Modern Art.
That American Folk Art Museum building lasted about 13 years. But there was an iteration of Grand Central Station (not Terminal, at the time), that lasted only three years (pictured). And a couple of mansions on Fifth Avenue that lasted 15 or 20 years. Plus a lovely, if overly ornamental Windsor Arcade, that stayed up about 10 years before succumbing to a fire and a new idea for the site on Fifth Avenue and 47th St.
I learned all this in an interesting post on something called Untapped Cities — NYC's Shortest-Lived Buildings. Have a look. It adds a little perspective to the current demolition.