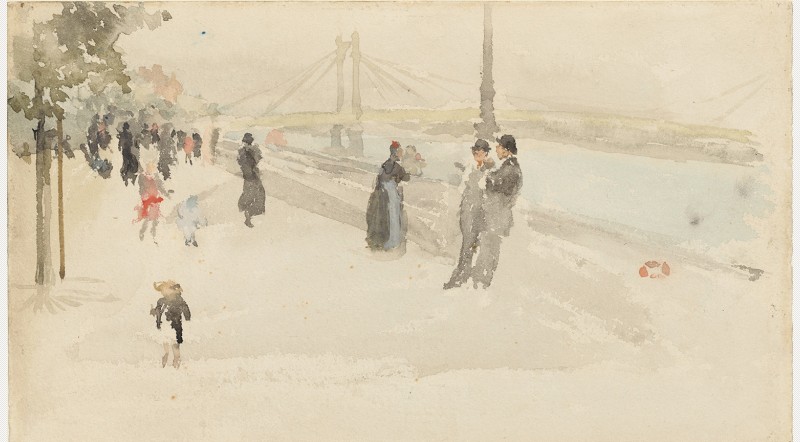 You art-lovers know that James McNeill Whistler did so much more than that portrait of his mother, but so many people do not. That's why the exhibit at the Freer-Sackler* called An American in London: Whistler and the Thames,  is so necessary. It's the first major exhibit of his works in the U.S. in about 20 years. Better yet, while I love his full-length portraits, which were on view in a special show at the Frick in 2008 along with etchings and pastels from his trip to Venice, the Freer show focuses on his moody, atmospheric river scenes. They were painted in the 1860s and '70s, when Whistler began to title his works as "nocturns," "arrangements," and "symphonies."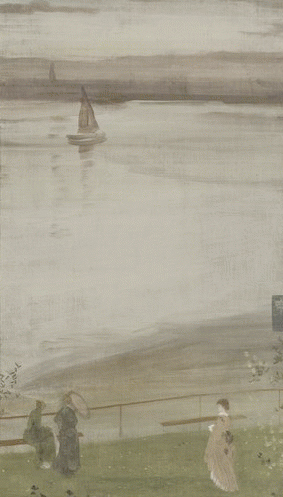 They are lovely, and I will cite Pink and Silver – Chelsea, the Embankment, at right, on loan from the Clark Art Institute; Grey and Silver: Chelsea Wharf, from the National Gallery of Art; Variations in Violet and Green: Chelsea, at left, from the Musee d'Orsay; and Nocturne, from the Art Institute of Chicago, as among my favorites.
The exhibit includes more than 80 works of art, including more than 20 paintings, and because the Freer owned many of the images, it created a video in-house as an experiment. Here's the link to it. In it, among the other things I was reminded of is that Whistler suggested to Freer that he build his museum in Washington. It's not as good, obviously, as seeing the exhibit, but it's better than nothing if you can't swing a trip to D.C. before Aug. 17.
Just for fun, you can compare that with the videos about the full-length portraits made by the Frick for its show in 2009 — available here.
*I consult to a foundation that supports the Freer.