The Wall Street Journal published an excellent narrative of Cornelius Gurlitt's final days the other day. You can read it here, assuming it is not behind the paywall. But it may, and so I thought I'd relate a few key paragraphs of the story, by Mary Lane and Bertrand Benoit. It documented, as I suspected, Gurlitt's revenge on Germany.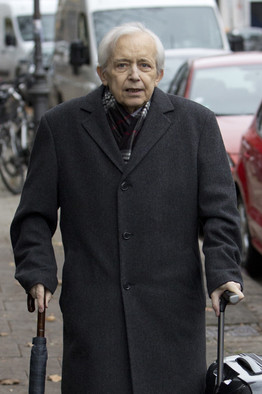 The article begins:
Cornelius Gurlitt [at left], 81 years old and his heart faltering, in early January called a notary to his hospital bed in southern Germany, determined to write a last will and testament inspired by love and hate.

Mr. Gurlitt—stung by the local government's seizure of the cache of priceless art that he called his life's only love and by the world-wide furor over the fact that much of it was snatched from Jews by the Nazis—had two desires: to burnish his family name by giving the trove to a museum and to send it out of Germany….

…Mr. Gurlitt's decision, people close to him say, reflected in part his alienation from his country and anger at the Bavarian officials who confiscated his collection. At first, he "felt like a victim of Bavaria," a person close to the collector says. But, as he began "growing paler by the day, he wanted to keep his father's name from being tarnished and give back the Jewish art." …

…The government deal, involving Bavarian and national agencies, happened partly because of Mr. Gurlitt's hope he would see the art again before his death—a wish that went unfulfilled….
Apparently, Germany proposed the donation idea:
In December, a government official involved in the case sat down with Mr. Gurlitt for what the official described as a serene, deeply personal one-on-one conversation….this person suggested Mr. Gurlitt could transfer his collection to a foundation—preferably in Germany—that would restore stolen art to its rightful owners in line with the Washington Principles and show the rest in a state-financed museum. He seemed interested.

A few weeks later, Mr. Gurlitt took the idea but used it to snub his native land.
Gurlitt had only the slightest connection to the Bern museum to which he willed his treasures:
…In 1990, he sold an unidentified artwork for $48,757 via the Kornfeld auction house in Bern and told a lawyer earlier this year that Eberhard Kornfeld, the auction house's owner, remained an acquaintance. Mr. Kornfeld is a significant patron of the museum. …
2013 became 2014 and:
In February, [Christoph] Edel [Gurlitt's court-appointed guardian] announced he had removed 60 fresh artworks, whose existence was hitherto unknown, from Mr. Gurlitt's second home in Salzburg, Austria, and put them into storage. These included a Claude Monet painting that experts valued at $12 million and that had been presumed lost.

…Mr. Gurlitt at the intensive-care unit. Mr. Gurlitt, growing impatient to finalize the talks, instructed his guardian to end [Hannes] Hartung's [a criminal lawyer who wanted the painting sold, with proceeds going to Gurlitt] contract, which Mr. Edel did on March 27…Mr. Hartung's dismissal crippled parallel negotiations he had been conducting with French and American heirs to a Matisse painting in the trove, valued at $20 million, [but] it propelled the talks with the government.

…The agreement in which Mr. Gurlitt would pledge to return all stolen works was finalized between the lawyers and the government the first week of April. Mr. Gurlitt asked for the weekend of April 5 to read through the six-page contract. The government negotiators, aware of his declining health, had inserted a clause that would bind Mr. Gurlitt's heirs.

On April 7 at 1 p.m., in the presence of Mr. Edel, he signed the document, which gave the task force one year to research dubious paintings, with the German and Bavarian governments covering all costs. Mr. Edel called the Bavarian justice ministry shortly thereafter.

Two days later, the prosecutors' office said it released the art for Mr. Gurlitt to retrieve, citing "fresh elements," adding that its investigation was continuing. The art remains in a government-rented warehouse.

Mr. Gurlitt remained mentally active throughout the negotiations. Mr. Edel visited him on May 5, telling colleagues he hadn't appeared weaker than usual. He died the next day.
It's good reading, if you can get the whole story.
Photo Credit: Zuma Press via the WSJ