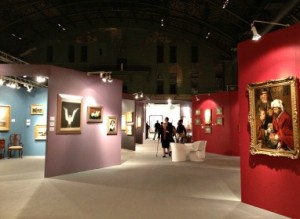 Last year about this time, I wrote here about the Spring Show at the Park Avenue Armory, lauding the use of color on the walls of the booths. This year it was  Spring Masters, New York — they called it and "inaugural fair" as it was under new management, but it is basically a reincarnation of the Spring Show. This year, it had the same array of colored walls — well, maybe a little less flashy: I didn't see the bright red, yellows and greens that were there last year. But this year it had something else, as its website claims:
…a design by architect Rafael Viñoly that reimagines the visual impact, layout, and experience of the fair. Viñoly's design includes hexagonal booths and floor plan that encourage and accommodate an array of presentation strategies. The redesign represents the most significant change in the Armory fair format in three decades…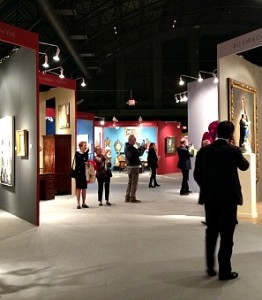 So the design — see the map I've posted — had two aisles instead of three, and a couple of clusters in the middle. That was supposed to be more relaxing, but I found it a tad confusing — I had to double-back occasionally to make sure I had seen every booth. As for the hexagonal booths, dealers told me they were intended to give them more wall space. Maybe you can tell a little from the pictures I've posted. I was told that about 95% of the visitors said they liked it. I didn't mind the new layout, but I think SOFA, the design show, which had bare floors and very spare booths, was more radical than this. I still like the colors of this show, which when well chosen really bring out the artworks.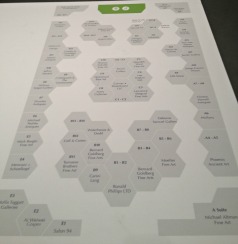 Photo Credits:  © Judith H. Dobrzynski