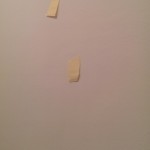 In a week when Christie's can and does sell almost $880 million worth of contemporary art in just two nights — with more to come (or go) at Sotheby's and Phillips — I thought it was time for amusement, sarcastic as it may be.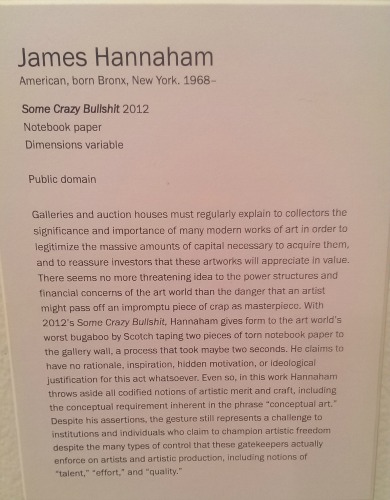 Several days ago, The Daily Dot, an internet newspaper, brought us Here's a hilarious gallery show for people who hate art. The article is about a work of fiction by one James Hannaham called "Card Tricks," which he wrote "in the form of art gallery plaques," as novelist Jennifer Egan wrote in Recommended Reading, an online fiction magazine that published "Card Tricks." Here's a link to her commentary on it. 
Hannaham's piece consists of several "art works" with labels. There is, for example, Some Crazy Bullshit, which consists of two bits of torn notebook paper taped to a gallery wall, as at right, and the label, at left.
He also offers a found object called Planet, i.e., the earth, and Nothing, enclosed with those little corner tabs we used to use to place photographs in paper albums.
The exhibit, Egan writes, first appeared in a gallery on Atlantic Avenue in Brooklyn, and more recently, as The Daily Dot reports, at the James Cohan Gallery in Manhattan. There:
"I've noticed, in galleries, that literary people look at the art, and artists look right to the placard," Hannaham told Egan in a live interview at the event. "They want context."
I've found something a little different: collectors look at who owns the work.
You can see more of Hannaham's works at both links.
And kudos to both galleries (and apparently one in Minneapolis)  for having a sense of humor about their business. Especially this week.